The Nighthawks make Douglas County history
November 1, 2015
/
/
Comments Off

on The Nighthawks make Douglas County history
The eighth grade Rocky Heights Middle School football champions switch out football pads for ties as they pose for a yearbook photo. The eighth graders made Douglas County history when they closed out the season with an 8-0 record.


By Amanda Merriman; photos courtesy of Maggie Bell, Emma Goble, and Michael Knoebel
The eighth grade Nighthawks football team at Rocky Heights Middle School (RHMS) has made Douglas County history. The Nighthawks won the championship in the district's inaugural playoff season for football, making RHMS the first team in the district to have achieved an 8-0 record, according to Coach Michael Knoebel.
Knoebel remarked that the victory was due to the fact that the whole team showed such dedication and hard work. Knoebel also noted that the Nighthawks received great support from the entire school, which generated a positive atmosphere that the team carried with them into the playoffs.
Castle Pines player Hunter Whalen said playing football for the Nighthawks was "a fun experience throughout the year." Whalen noted that with each game the team connected more and more and the experience of going to Shea Stadium was so much fun. "Not many kids get to play in a stadium like that!" he said.
In the first playoff game, RHMS faced the Cimarron Colts. The Nighthawks recovered a fumble on the goal line and returned it for a touchdown to end with an exciting victory. This momentum carried over to the championship game. On Thursday October 8, under the lights at Shea Stadium, the Nighthawks intercepted a pass with 30 seconds left on the clock to close out the game and win the championship against the Blue Knights of Castle Rock Middle School, 14-6.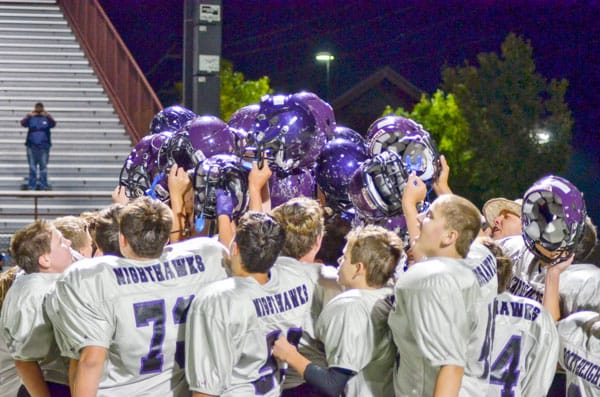 The Nighthawks raise their helmets in victory as they win the championship game against Castle Rock Middle School.
Off the field, the team demonstrated a great sense of community involvement as well. The RHMS Nighthawks participate in GiveSports. This is a program within the Colorado based nonprofit organization, A Precious Child. A Precious Child dedicates itself to improving quality of life for displaced and disadvantaged children (and their families) in Colorado. RHMS is collecting new and gently-used sports equipment to help provide these children with the opportunity to participate in organized sports. Visit www.apreciouschild.org for more information.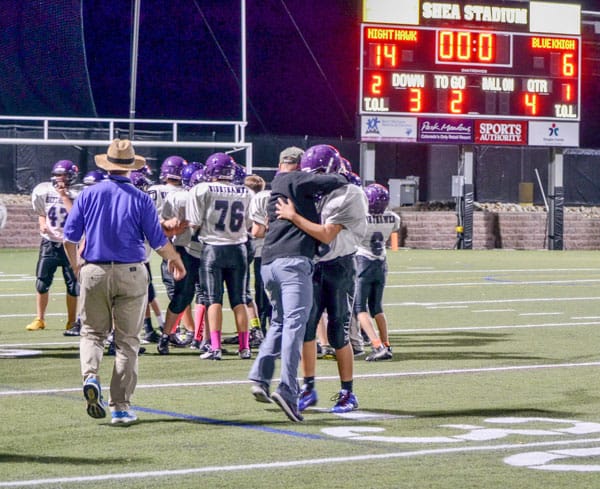 The RHMS football team converged on the field to celebrate after their exciting win, with the score of the game captured in the background.