June 1, 2020
/
/
Comments Off

on Ultimate Tag – you're it
By Shaun Kernahan; photos courtesy of Kelsey Cristiano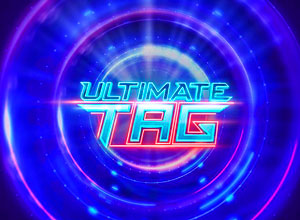 Kelsey Cristiano, a 2007 graduate of Rock Canyon High School's inaugural class, will have her athletic prowess featured June 10 on the Fox network's new game show, Ultimate Tag.
The show debuted in May and is hosted by the NFL's Watt brothers – J.J., T.J. and Derek. The show is billed as a "high-octane physical competition based on the classic playground game of chase." Cristiano could not speak higher of the show, calling it her coolest life experience yet – while keeping how she performed on the show under wraps.
After growing up in Castle Pines, Cristiano enrolled at the University of Colorado Boulder, following in the footsteps of her brother, father and grandfather to pursue a degree in broadcast journalism. Although she was not a Division I athlete, Cristiano was very active in intramural and powder puff football for her sorority.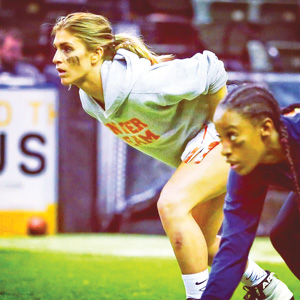 Years later, at the recommendation of a friend, Cristiano attended a tryout for the Denver Dream, a women's American football team that played in the Legends Football League. She played two seasons with the team. She never collected a paycheck while playing on both sides of the ball, but Cristiano looks back on the experience fondly.
Reminiscing, Cristiano recalled a lunch meeting at work, "I was wearing a sleeveless blouse and had a huge bruise on my arm and my boss totally called it out and told them, 'don't worry, she plays football.'"
During a publicity stop for the Denver Dream, Cristiano and some of her teammates were featured on Mile High Sports Radio AM 1340/FM 104.7. The host was Gil Whiteley. Whiteley and Cristiano forged a friendship which led to one of the many hats Cristiano wears today. On Mondays, she co-hosts Whiteley's show from 1 p.m. to 2 p.m. She also works as a senior district manager for a global payroll provider.
Cristiano now lives in Denver, and while her parents no longer live in Castle Pines, Cristiano loved her time growing up in the neighborhood and remembers going to the Country Market, long before Safeway and King Soopers were built.