A happy Father's Day in Daniels Park; it's a boy!
June 1, 2014
/
/
Comments Off

on A happy Father's Day in Daniels Park; it's a boy!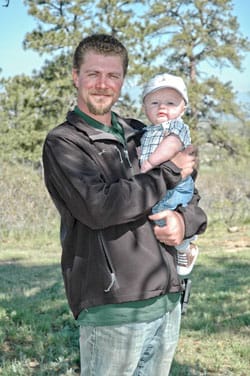 New life comes to Daniels Park each spring. In addition to the dozen or so new baby bison born this year, operations supervisor and Daniels Park caretaker Matt Brown is a new dad too. He is looking forward to teaching his four-month-old son Hunter all about life in Daniels Park.
Article and photo by Lisa Crockett; photos courtesy of Matt Brown
It's spring, and there's new life in Daniels Park. Between 12 and 14 new baby bison will be born into the herd by the end of this month. The herd, which is maintained in the park under the watchful eye of Matt Brown, who lives on-site as the operations supervisor and caretaker of the park, dates back to the late 1930s. Meticulous care and management has kept the same bloodlines thriving ever since.

"We have four pastures in the park and about 800 acres total for grazing," said Brown. "In the winter we supplement their diet with hay, but this time of year they graze. After they're born, they might bed down in a secluded valley for a few days, but after that they move along with the herd. They will stay with their mothers for about ten months."
Brown has human babies on his mind this year, too. He and his wife Melanie welcomed their first child in January. Their son Hunter will now call Daniels Park home, a place which is beloved by his father.
"It will be a wonderful opportunity for him to grow up in a place like this," said Brown. "There is a lot of room to roam and he'll learn early where he can and cannot go."
And like other visitors to the park, Brown will teach his son about how the bison should be treated. "I always remind people not to feed them, they are 100 percent grass fed," said Brown. "We also ask people not to jump into pastures; the bison are wild animals and their behavior can be unpredictable."
Brown is clearly passionate about the park and about ranching. As a senior at Bear Creek High School in Lakewood in 1999, he completed a project in elk and bison ranching. Just after graduation he went to work for the Denver Mountain Parks System (which owns and operates Daniels Park) and has been there in various jobs ever since. His passion for the park and the animals that live there matches his obvious affection for his new son.
"It's a lot of fun to be a dad and watch my son grow," said Brown. "I am looking forward to teaching him and watching him experience this place I love."