A neighbor helps to build a better life for others
March 1, 2010
/
/
Comments Off

on A neighbor helps to build a better life for others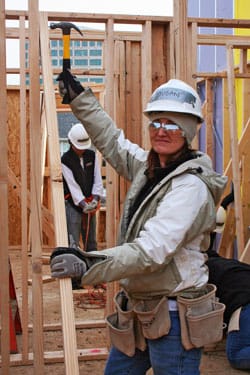 Susan Sanders has been honing her hammering skills while working with Habitat For Humanity of Metro Denver. Sanders' goal is to get the nail into the wood with the fewest amounts of hits. Her record to date is four. (Photo by Carin R. Kirkegaard)
Article by Carin R. Kirkegaard
Susan Sanders, a Castle Pines North (CPN) resident is leading by example for her three children. Sanders spends one day a week, rain, snow or shine, working with Habitat for Humanity of Metro Denver.
Just more than a year ago, Sanders was looking for a way to give back that would fit into her schedule as a busy mom with three school-aged children. Lowes Home Improvement, where her husband is a district manager, was sponsoring an all women's build of a house with Habitat.
Unfortunately, Sanders couldn't make any of the available days, but the idea of building a house definitely appealed to her and she quickly signed up to work on another house, bringing a group of friends with her.
One year later, Sanders decided to commit to Habitat for one day a week until the project is completed. Short of a sick child, Sanders has been out wading through mud bundled up against the cold cutting 2×4's, framing walls and hanging cabinets.
"I really wanted to be a part of the project from ground breaking to ribbon cutting," said Sanders.
Sanders comes by the affinity for construction work honestly. As the youngest child of six growing up in Arkansas, Sanders remembers learning tricks of the trade from her father. One summer she was hired to re-shingle the roof of her father's workshop.
Being married to a district manager of Lowes only reinforces the affinity. When Sanders made the commitment to Habitat in January, her husband Chad brought home the best gift for a wife in construction. Her own tool belt, complete with a hammer and tape measure.
"I was at the sink doing the dishes, and Chad told me to step back from the sink and close my eyes. I did and he put the belt around my waist," Sanders explained.
Not only does Sanders devote one day a week to Habitat, she has also introduced many other Castle Pines residents to the cause. The Bails Townhome Community that Habitat is currently building is the first green transit oriented development in Denver's Metropolitan area. It is located just off of Interstate 25 at Evans.
To join Sanders and volunteer with Habitat, e-mail Susan contact by e-mail. To learn more about the Bails Townhome Community visit www.habitatmetrodenver.org.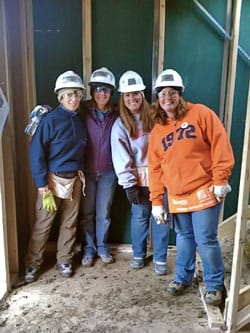 CPN neighbors of Sanders spend a day helping build the Bails Townhome Community. (Photo provided by
Sally Wagner)