August 1, 2011
/
/
Comments Off

on A tricky game of numbers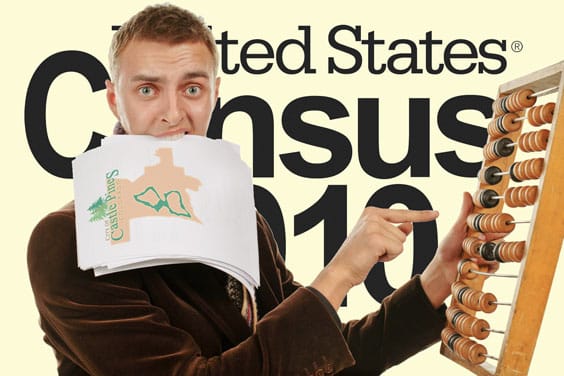 by Chris Bonham
Two thousand and ten; 2010. This configuration of numbers means something a little different to each of us. The start of a new decade. Or perhaps the end of an old one. A new chapter. Another chance. Either way, last year was significant for everyone because the United States government conducted its latest census – its way of measuring population changes, demographics, and other similar factors. And, the numbers in the new 2010 census showed some startling changes in the Castle Pines community.
According to a June 19th article in The Denver Post, the population of Castle Pines has fallen by 39 percent since the last census in 2000. At first glance, that percentage appears rather dismal for the fledgling city. However, upon further examination, that configuration of digits means something completely different.
As most readers are aware, Castle Pines did not become a city until 2007. Therefore, when the 2000 Census was taken, Castle Pines [Castle Pines Village, City of Castle Pines, and unincorporated Douglas County areas] was listed as a "census-designated place" (CDP) rather than its own entity. The total number of residents living within the Castle Pines North CDP ten years ago stood at 5,958.
Now, the fun part: When the City of Castle Pines came into existence, only the northern portion of the former CDP was incorporated as part of the new city. So, when the Census rolled around again, the Federal government looked at the City of Castle Pines and the remaining unincorporated areas CDP as two separate areas.
With that background in place, we can now look at the numbers from the Census with new eyes. In 2010, the population of the CDP dropped to 3,614. You'll recall that the population in 2000 was 5,958. No need to do the math: That drop is equal to 39 percent, which is the percentage also listed in The Denver Post. So, the numbers that most Castle Pines Connection readers have seen actually refer to the unincorporated portion of the CDP that still exists.
The City of Castle Pines, however, has a population of approximately 9,500. So, in reality, the total population of the Castle Pines community (including both the city and the CDP) is somewhere in the realm of 13,000. Compare that with the number of people living in the area back in 2000, when the City was still a part of the CDP, and you actually have a population gain of 118 percent added to the original 5,958.
This shows what local residents already know: Our community is a beautiful and fantastic thing to be a part of. Residents in Castle Pines can breathe easy and rest in the knowledge that the community is healthy and vibrant.