Achieving black belts is a Buffington family affair
December 1, 2012
/
/
Comments Off

on Achieving black belts is a Buffington family affair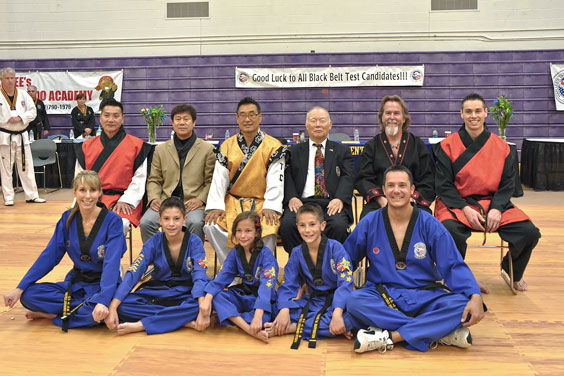 The Buffington family (front row, from left) Aimee, Will, Kelsey, Tyler and Jeff at their Black Belt test in November with their black belt examiners. The Buffington family all received their Taekwondo black belts last month at Han Lee's Taekwondo Academy in Castle Rock.
By Lisa Crockett; photo courtesy of the Buffington family
It started simply enough, four years ago. Castle Pines residents Will, Tyler, and Kelsey Buffington, who were nine, seven, and four at the time, decided to give Taekwondo a try. Attracted to the sport based on an offer of a trial month that cost just $50 at Han Lee's Taekwondo Academy (which Grand Master Han Won Lee then donated to Timber Trail Elementary), their parents Aimee and Jeff were invited to join them that first month, too.
"We were happy to find something we could all do as a family," said Aimee. "Most of the time, we're all moving in different directions, so this was nice."
After that first month, the family committed to earn their black belts, which has taken them on a journey of personal and family growth. The road to a black belt is long – a minimum of four years – and requires unusual dedication and discipline. On a weekly basis, the family attended two or three classes and prepared for quarterly belt tests designed to help them mark their progress on the road to the black belt. In addition, the kids were required to practice ideals that included respect for teachers and parents, working hard in school, and keeping their personal belongings neat and tidy.
"My favorite challenge was the 'do it the first time' challenge," said Aimee. "When I asked the kids to do something, they had to do it the first time I asked, and then I had to sign off on it."
Though rigorous, the process has helped all three of the Buffington kids to build self confidence and help condition them for the other activities they enjoy, like soccer and choir.
"This taught me I can stick to something for a long period of time," said Will, who is now 13. "It was hours of hard work, but if it had been easy, it wouldn't mean anything."
The hard work only intensified in the last year, as the black belt test drew nearer. In addition to increased class time, the family was required to perform community service. Together with fellow black belt candidates, the family conducted a food drive in Castle Pines, collecting 762 pounds of food and $181 in cash donations to benefit the Douglas/Elbert Task Force.
In the end, all the hard work was worth it when the whole family received their black belts last month.
"Doing it together as a family really brought us together," said Aimee. "It was great to be encouraging each other and I see the difference in my kids."