Annual pumpkin display welcomes in fall
November 1, 2019
/
/
Comments Off

on Annual pumpkin display welcomes in fall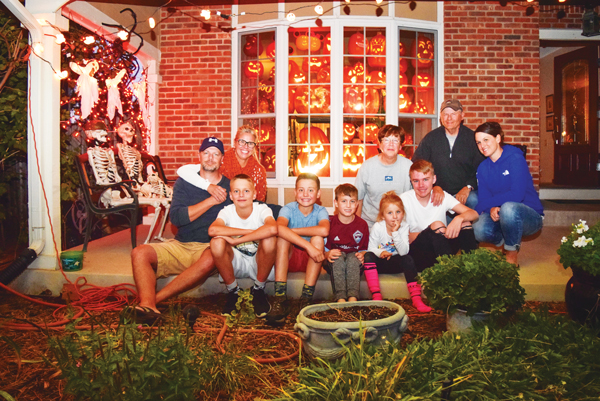 The Holcomb family has so much fun building a pyramid of Jack-o'-Lanterns each fall for their neighbors to enjoy.

Article and photo by Lynn Zahorik; photo courtesy of Daryl Holcomb
Each October, the residents on the cul-de-sac of Clare Court look forward to the festive Halloween display orchestrated by their neighbors Daryl and Dottie Holcomb. Many years ago, Dottie brought home some artificial pumpkins from her classroom that she placed in the bay window in the front of their house. They looked a little lonely so the couple bought a few more. When Halloween was over they took advantage of the liquidation sales to add to their collection. Each year, the number of pumpkins grows larger and so does the magnitude of the display. Now the Holcomb house is adorned with skeletons, Jack-o'-Lanterns and creepy spider webs.
Dottie and Daryl are proud to claim fame as some of the first residents to join the community of Castle Pines [North]. There were only 50 homes in the area when they arrived. They are the original owners of their Royal Hill home which they moved into with their two children in 1986.

Dottie and Daryl recently celebrated their 51st wedding anniversary. They met as students at University of Northern Colorado, Greeley.
Now retired, both Dottie and Daryl enjoyed making teaching their profession. Dottie was a teacher for 35 years in Aurora Public Schools and Daryl taught for 31 years in the Cherry Creek School District.
Decorating their home each autumn has become a family affair. There are now five Holcomb grandchildren who relish the opportunity to be part of the tradition of placing the lit pumpkins in the window. They gather together at the beginning of October to garnish the house and kick off the arrival of fall. In their family, Halloween is a fun event meant to be celebrated all month long. "We have always enjoyed decorating for Halloween with our kids," said Daryl. "We have noticed that many trick or treaters take a special interest in our display, stopping to admire the pyramid of pumpkins, often taking pictures and selfies."