Artist gets hooked on rugs
August 1, 2018
/
/
Comments Off

on Artist gets hooked on rugs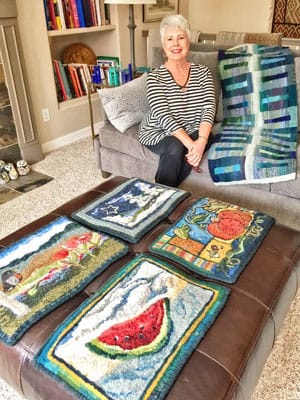 Donna Gordon with a few of the many rugs she has made since 2001 using a traditional rug hooking method where the artist pulls fabric up through a backing. Varying in size and expression, the rugs add warmth and color to Gordon's Castle Pines home.
Article and photo by Lisa Nicklanovich
When an artist who has explored many different mediums over the years such as hand-built pottery, weaving, pastels, and botanical illustration to name a few, ultimately settles on one art form, you know it has to be pretty special. Artist Donna Gordon is hooked on traditional rug hooking and has created many gorgeous and creative rugs which she has throughout her home in Castle Pines.
Gordon became interested in traditional rug hooking (not to be confused with latch hooking) after hearing stories about her husband Harry's family from Nova Scotia, who made mats and rugs using a technique where they would pull fabric up through a backing. Gordon has always had an interest in textiles and found it interesting to learn that using scrap material with a backing became popular in the 1850s when burlap became readily available from feed sacks and tobacco sacks coming from the West Indies. Anyone could pull strips of old rags and clothes through the burlap and create rugs which only the wealthy had before.
Gordon lived in Castle Pines for a short time back in 1998, then moved east to Philadelphia where she attended a historic fair and found someone who could demonstrate and teach rug hooking. Pendleton wool coats were easy to find at thrift stores for the material and Gordon found rug hooking "meditative and extremely forgiving."
One of the first things Gordon did when she and her husband Harry came back to Castle Pines nearly six years ago was to find a rug hooking group. Gordon said she was embraced by the Mile High Rug Guild and she is involved with a few other groups as well. Gordon said, "I like the camaraderie, the ease and demeanor of the people, and the love of the organic."
Rug hooking used to be a very traditional and utilitarian craft, but it is morphing into an art form with people using a great variety of materials, not just wool. "Artists are using everything from silk saris cut into ribbon strips to dyed pantyhose to cellophane," Gordon said. Rugs can also be very expressive and personal like the first rug Gordon made which shows the 1860s cabin at the Littleton museum where she was the curator of education. Gordon exclaimed, "Designs can be as simple or as complex as you want. You can express whatever you would like and change that expression with different pieces. I went from a log cabin to a very contemporary geometric design that was a pure shape and color study. It allows your brain to expand in all directions."
"The marriage of beauty and function is important to me and the idea of carrying my husband's family history forward is a sweet component of this. I would like more people west of the Mississippi to know about traditional rug hooking and try it," Gordon said.
For more information, visit www.atharugs.com, which is the website for the Association of Traditional Hooking Artists and click events to learn about the Colorado Rug and Fiber Guild annual Hook In coming October 13. Contact Gordon at gypsygordon@gmail.com.