Artist's touch gives new life to family heirlooms
November 1, 2010
/
/
Comments Off

on Artist's touch gives new life to family heirlooms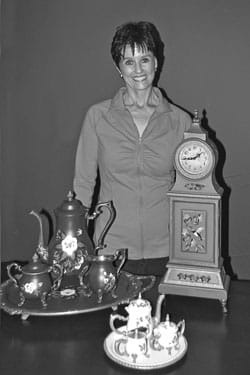 Artist Suzanne Dutcher displays her hand-painted antique tea set, clock, and child's tea set.
Article and photos byElizabeth Wood West
Colorado native and Castle Pines North resident Suzanne Dutcher has turned her love of tea sets and antiques into a unique art form.
Dutcher transforms every day and heirloom-quality serving pieces into one-of-a-kind functional art objects by painting delicate and detailed floral and nature designs on them. Dutcher paints her designs on trays, water pitchers, plates, goblets, and, most recently, small grandfather clocks. Her signature pieces, however, are silver tea sets.
"The idea of turning an old forgotten object into a piece of art was something that I came up with. I started out by visiting antique stores and searching out unusual objects. Doing custom designs by using my clients' own pieces came later," Dutcher said. Dutcher can also provide the pieces for clients.
Using her interior design training, Dutcher develops design color boards for clients by pulling in fabric and paint colors from their home interiors. Dutcher said, "I have clients who, after having something done for their own home, will give me other old family pieces to do for their children and grandchildren. I then have my client provide a little history about the piece and the name of the person it is being designed for. Each piece is signed, dated, and numbered," she said.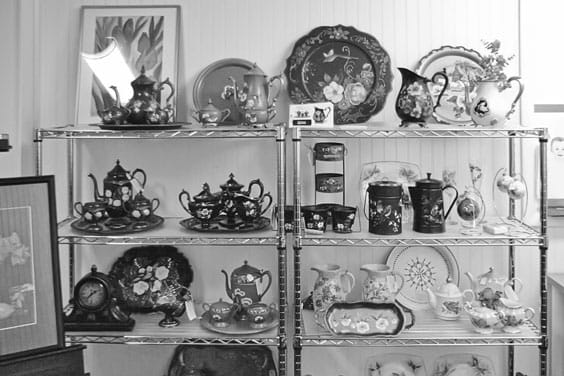 Antique tea sets, trays, pitchers and other art objects on display at artist Suzanne Dutcher's studio.
Dutcher uses enamel paint for her metal pieces. The metal pieces are sand-blasted, primed, and painted with a background color before her designs are painted on them. The inside of the metal pieces are left untouched so that they can still be used. According to Dutcher, once the piece is cured, it should last a lifetime or longer, with proper care. Each sold piece comes packed in a beautiful padded damask box.
Several of Dutcher's art objects are on exhibit and available for purchase at The Courtyard Gallery in Castle Rock. Dutcher will also have her pieces available during the "Annual Christmas in Colorado" exhibition at the historic Grant-Humphrey's Mansion on November 5 and 6.
For more information, please contact Suzanne Dutcher at 303-814-9362 or visit www.suzannedutcher.com. For information about The Courtyard Gallery, please call 303-658-0486.