Hot Cocoa Bar w/Marshmallow Stirrers
December 1, 2014
/
/
Comments Off

on Hot Cocoa Bar w/Marshmallow Stirrers
Belly up to the bar; hot chocolate, that is!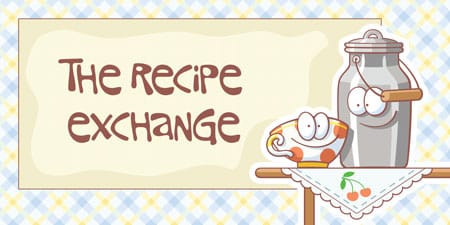 Article and photos by Lisa Crockett
The holidays are here and party season is in full swing. Calendars are filling up and time is short, so I'm always looking for things I can do to show my love that are quick, easy and foolproof. With that in mind, last year in December I discovered my new favorite holiday tradition: the hot chocolate party. At the party I attended, the hostess provided generous, steamy mugs of delicious hot chocolate and all the fixings: fluffy, sweet whipped cream, marshmallows, and candy canes to both stir and flavor the drinks.
Guests were tasked with bringing a goodie to share. Most of us brought cookies, some of which were perfect for dunking, but the candied nuts and caramel popcorn paired just as well and provided nice variety. Most importantly, while the hostess certainly put forth some effort to make the cocoa, she wasn't completely drained when party time rolled around, and was perfectly free to mingle with her guests and enjoy their company.
The most important component of a hot chocolate party is, of course, the hot chocolate itself. Over the years I've tried just about every hot chocolate offering available, from individual packets of powder I picked up at the supermarket, to fancy (and pricey) solid chocolates, which must be melted in a double boiler and then carefully and slowly blended with hot milk. Though those upscale versions are decadently delicious, I don't prefer them for parties because they are labor intensive to make and sometimes even with careful handling don't blend properly with the milk and come out grainy and lumpy. Purists may cringe, but when I'm preparing cocoa for a crowd, I purchase good-quality, pre-made chocolate milk from the store or the dairy and carefully heat it on the stove. Over medium heat, stirring constantly, heat the milk until it's hot but not boiling. You can easily do this an hour or two before your guests arrive if you pour it into an insulated Thermos-type container. For serving, transfer the cocoa to a teapot or other serving vessel, or simply place the Thermos on the party table.
Once your hot chocolate is prepared, you can get to the fun part – the "bar" of toppings and additions that make the drinks delicious and look fancy and fabulous on the table. Traditional toppings like whipped cream dissolve in the hot liquid, but don't completely shy away from toppings like cookie crumbs, toffee bits or chocolate chips that might sink to the bottom of the cup. Simply provide your guests with spoons – that melty, gooey mess left after the cocoa is gone tastes divine. Stirrers are a fun final addition to complete your spread, and rolled wafer cookies filled with hazelnut are nice. Peppermint sticks add a fun shot of color to the table and give the drinks a distinctive holiday flavor. For something even a little more special, dress up regular marshmallows with a dip in a chocolate bath and a dusting of peppermint candy crumbs.
The hot chocolate bar is great "to go," too. Bundle some marshmallow stirrers with festive ribbon, add some beautiful holiday cookies and a few packets of your favorite cocoa mix and package it in a pretty container. You can send these cocoa kits home with your guests or take them to friends whose schedules are too full to join you. In this season of giving, whether friends come to your party or you take your party to them, it's a gift worth sharing.
Serving a hot chocolate bar is a fun and creative way to add that something extra to your holiday party or tradition.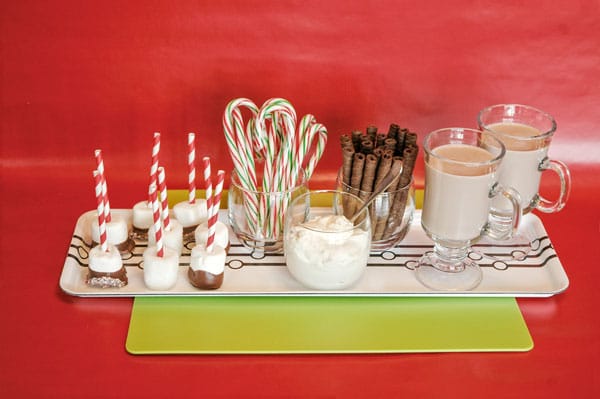 Festive hot cocoa marshmallow stirrers
Peppermint dust is easier to chew and dissolves faster than crushed candy canes; you can find it at some grocery stores, specialty stores or online. Finely-crushed candy canes will certainly do in a pinch, though.
1 cup semi-sweet chocolate chips
1 cup chocolate melting wafers (available at most grocery stores)
2 16-ounce bags large marshmallows
1/2 cup peppermint dust, crushed candy canes or peppermint sprinkles
1 cup granulated sugar
Straws, craft sticks or coffee stirrers
Using a bowl placed over a pot of simmering water, melt the chocolates together completely. Remove from heat and, with clean hands, gently dip marshmallows until they are covered about halfway. If desired, dip the bottoms of the marshmallows in peppermint dust. Place marshmallows on wax paper and allow to stand at room temperature until chocolate is set. Carefully poke a straw, craft stick or coffee stirrer into each marshmallow. Cover with plastic wrap to maintain freshness until serving. For "snowball" marshmallows, dip marshmallows in room-temperature water and then roll in granulated sugar. Serve with hot chocolate.