December 1, 2014
/
/
Comments Off

on The Egg and I
Which came first, the chicken or "The Egg and I?"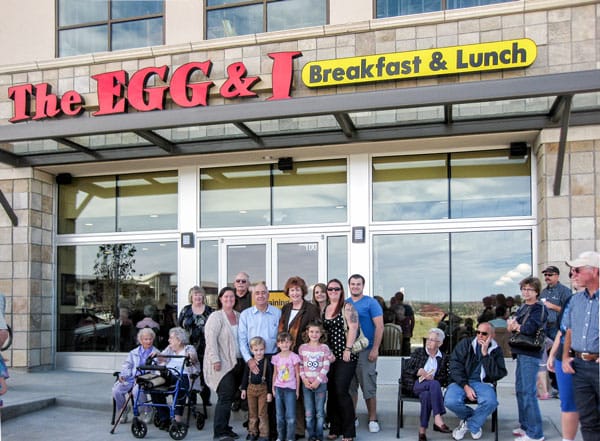 Castle Rock residents Cal and Teresa Weatherly and their family and friends at the new The Egg & I, which opened its doors last month in Castle Rock.
Article and photo by Cindy Kessinger
Cal and Teresa Weatherly are now the proud owners of their first franchise, The Egg and I, which opened for business last month in Castle Rock.
Two-and-a-half years ago, Cal and Teresa were enjoying their breakfast at The Egg & I in Parker, and while perusing the menu, came to a section that stated "If you want to purchase a franchise, call this number." The idea of owning a restaurant franchise had always been a dream of Cal's, and since he is an excellent cook this opportunity caught their attention.
Due diligence paid off, and their research of various franchises brought them back to The Egg and I. Teresa said it was "karma" that brought them to The Egg & I. When they called that number from the menu, there were only two franchises available in Colorado and one was in Castle Rock. Since they are Castle Rock residents it made perfect sense to them.
With a banking and accounting background, Teresa suggested she would handle the finance side of things. A Douglas County native, Cal works for the City of Littleton Fire Department repairing fire trucks and won't be in the kitchen for now. What the Weatherlys may lack in food service experience they gain with the support of corporate Egg & I. Teresa said that when she and her husband started the process of looking for a franchise they kept coming back to The Egg & I because they felt like corporate was patient, had their backs, and spent the time needed to make the franchise a success. "The Egg and I is a great brand!" said Teresa.
Directly west of the beautiful Castle Rock Adventist hospital in a brand new building, The Egg and I's 26th franchise in Colorado and 107th nationwide opened its doors on October 26 for a private complimentary breakfast/ lunch training day fundraiser. One hundred percent of all proceeds that day benefited Children's Diabetes Foundation.
From Crab Benedict to yummy Patriotic Waffles, Santa Fe Huevos and a large lunch selection, there is something for everyone on the menu. A completely enclosed private meeting room which holds 30 comfortably is also available with breakfast and brunch menus. Trying to figure out "Which came first," the chicken or the egg (which is stated on the franchise home page) will not be of importance once customers begin their dining experience.
The Egg & I is open from 6 a.m. until 2 p.m. Monday through Friday, and 7 a.m. until 2:30 p.m. Saturday and Sunday. It is located at 2240 Mercantile Avenue, Unit 100 in Castle Rock. For additional information, visit www.TheEggandIRestaurants.com.
Editor's Note:  The Egg & I closed its doors for business in 2019.