Tempting tea and tasty treats at Regency Tea Room
December 1, 2014
/
/
Comments Off

on Tempting tea and tasty treats at Regency Tea Room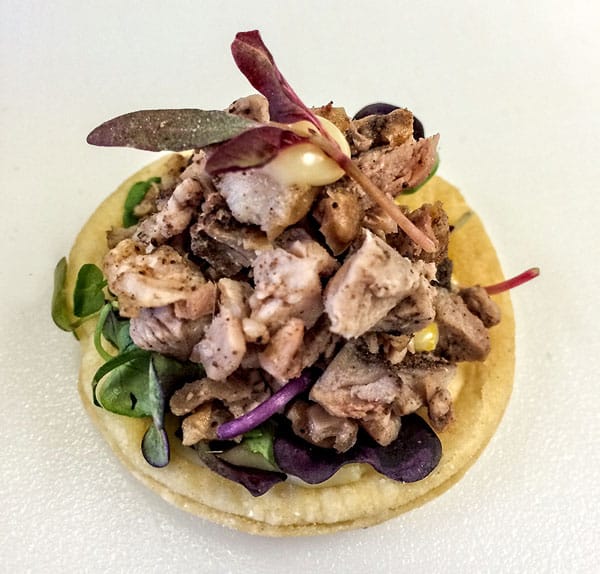 By Lisa Crockett; photos courtesy of Ben Archibald
It's the season of hustle and bustle, of crowds and hassles. Amidst the chaos, a true moment of peace might be the best gift of all. At Regency Tea Room (Tea Room) in The Emporium in Castle Rock, that peace and serenity is done with elegance and style. Along with a healthy dose of Zen-like calm, you'll find comfort, beauty, and most important of all, impeccable tea service accompanied by sumptuous food prepared with care and attention.
"The Tea Room is such an intimate atmosphere," said chef Ben Archibald, who handcrafts every item that Regency Tea Room serves. "There is something so magical about the sharing aspect of the tea service, that I think it's one of the best ways you could spend an hour or two with friends and family."
Regency Tea Room is owned by Becky Boman and her husband, Greg, and is a natural outgrowth of their interest in both delicious tea and gracious entertaining. Boman recently spent a week in Sri Lanka at the Dilmah tea plantation learning about everything from how the tea is produced to how to properly use it in mixed drinks.
"Sri Lanka is the largest exporter of tea in the world, and at the Dilmah tea plantation they produce 'seven-star' tea – that high rating comes from paying attention to everything from how they treat their workers to how the tea is grown," said Boman. "They really do things the right way."
Dilmah tea is prominently featured on the Tea Room's menu, alongside Tea Source tea, and PersnickeTea, Regency Tea Room's private label tea. Service at Regency Tea Room is attentive and efficient; if you're overwhelmed with the menu's vast selection of tea choices, your server will be happy to advise you. Once the tea is chosen and the champagne has been poured, sweets and savories are served. In traditional English style, diners begin with savory pastries and finger sandwiches, followed by scones and preserves, and finish off with "fine" or sweet pastries.
A defining feature of the Tea Room is a menu that is changed every month to reflect the season and to honor what is available locally. Archibald, who has spent time not only in various restaurant kitchens but also on farms and ranches, starts by looking at what is on offer and then builds his menu from there. He recently constructed raised garden beds on the Tea Room's back patio and will soon begin growing some of the produce needed on site.
"When I make the menu, I look at what I can source responsibly," said Archibald. "By keeping our business here as much as possible, we are strengthening our community."
When I visited the Tea Room in the early Fall, I especially enjoyed the homemade peach preserves, which featured freshly-picked Colorado peaches. In the winter, of course, peaches are simply a sweet memory, but with attention to detail and the commitment to excellence that define every item offered, it's a sure bet you'll be delighted with everything that comes out of Archibald's kitchen. One constant in the tea service is the second course of scones. Though scones include a changing seasonal jam, they are also always served with house-made lemon curd and clotted cream, creating a heavenly marriage of sweet and tart, flaky and creamy.
Not content to stand still, Archibald and Boman are now working on plans to open a new venue for tea and eats in The Emporium. A new tea bar, which will be a more casual atmosphere than the tea room, will be modeled after a traditional English Pub, and will offer tea and snacks in a different format than the Tea Room. Mixed drinks, featuring the tea mixology Boman learned about in Sri Lanka, will be offered alongside small plates and a la carte items. A monthly gastropub night is also in the planning stages to be offered at the new tea bar.
"The ambiance at Regency Tea Room is lovely," said Boman. "The tea bar will also have a wonderful air of open hospitality. We'll have glass walls and a fire pit. I envision it being the kind of place people can come with friends, or come to make new friends and connect with the community."
Regency Tea Room is located in The Emporium, 200 Perry Street in Castle Rock, and hosts Royal Tea service Tuesday through Saturday from 10 a.m. to 4 p.m. by reservation only. To make reservations, call 303-829-1090. For more information about Regency Tea Room, visit www.regencytearoomcolorado.com. The tea bar is slated to open in early 2015.