Boettcher Scholarship awarded to first Rock Canyon student!
May 1, 2012
/
/
Comments Off

on Boettcher Scholarship awarded to first Rock Canyon student!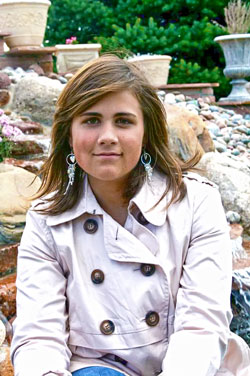 Aubrey Eggett was thrilled to be the recipient of such a prestigious honor. "I just thought, Oh my gosh, my hard work paid off! I was happily in shock. It's hard to explain just how blessed I felt and still feel. This is a dream come true and I couldn't be more grateful and ecstatic.
By Amy Shanahan, photo courtesy of the Eggett family
The Boettcher Scholarship, awarded by the Boettcher Foundation, is the most prestigious merit-based scholarship available to high school seniors in the state of Colorado. Rock Canyon High School (RCHS) is thrilled that Aubrey Eggett is its first recipient of this honor. Eggett's outstanding grades, involvement in her school, achievements in many areas, and her wit and charm are well known.
The goal of the Boettcher Scholarship is to attract Colorado's highest achieving students to attend college within the state. The Foundation awards 40 of these scholarships annually, and covers the cost of the student's tuition, fees and books for four years at the Colorado university or college of their choice. Eggett will attend the University of Colorado, Boulder in the fall.
Eggett is a special girl who brings joy to all those around her. "I love to spend time with my family, sing, whistle, read, ride motorcycles, shoot guns, eat buffalo wings, and do just about every other thing a girl doesn't usually do," revealed Eggett when asked to describe herself.
RCHS allowed Eggett opportunities to flourish and explore her various interests. "If I had a niche in high school, it would have probably been in choir. I always grew up whistling and singing around the house, so applying these skills in an academic setting was pure heaven," she stated. Eggett was an active participant in choir throughout high school and was selected to the Colorado All-State Classical Choir and the Colorado All-State Jazz Choir her junior and senior years. Her love of singing led her to roles in the RCHS musical productions during her four years, and her turn as Rizzo in "Grease" in 2011 was unforgettable for anyone fortunate enough to hear her sing.
At the end of her sophomore year, Eggett became involved with Student Council, and was elected Student Body President her senior year. Eggett was also a member of the softball team, and describes herself as the "Spirit Captain" of the team. "My softball skills were in terribly short supply, but my peers and coaches thought my jokes were funny," she admitted.
Eggett's accomplishments and active involvement in her school experience are all the more admirable due to the fact that she was diagnosed with Type 1 diabetes when she was 10 years old. "It's been challenging at times to balance my blood sugar, insulin levels, schoolwork and extracurricular activities simultaneously, but has proven to be rewarding as well," she remarked.
"It's always a humbling reminder to me that just as I have diabetes, everyone is experiencing some set of trials whether I can see them or not." This scholarship is evidence of the tenacity, hard work and great attitude of Aubrey Eggett.