Brought to you by the letter "B"
August 1, 2010
/
/
Comments Off

on Brought to you by the letter "B"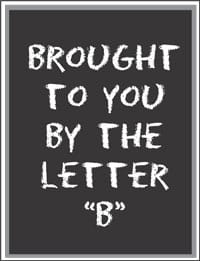 Column by Anthonette Klinkerman
A, B, C, D… You know the rest. And since A always gets top billing, I'm going to focus on B.
B is for Back to School! It's that time of year again. People are crawling the malls, looking for all the Back to School fashions they can find. Apparently looking like a Bum is still in vogue. I just can't Bend my mind around purposefully purchasing ripped jeans.
B is for Bargain. The paper is loaded with ads promoting them, and I'm sure all those shoppers are looking for a few, though I have to ask when is Kohl's NOT having a sale?
B is for Budget. A painful word as everyone (but CEOs of large corporations) seems to have to stick to one. Budget CUTS is more like it. It leaves me speechless that education was such an easy target in this department last year, and it seems will continue to be in the years to come. How about this for a new tagline: Shaping the Future on a Shoestring.
B is also for Ballot. Something was missing on it… now WHAT was it?
Oh. Bond. Hey! Another B!
B is for Boys. Fortunately for me, Boy-crazy is a long way off; my daughter is still at the age where Boys are on the 'icky" side. To my dismay, so are Barrettes. But again, on the other hand, so are Barbies, which is more than fine by me. Kids Blossom too quickly these days anyway.
B is for Backpack. Time to stock up on school supplies to fill those backpacks, which become Bottomless pits if you happen to have a student in your household. It's incredible that a Bag that small can contain so much stuff, but this is a well-known fact among women.
B is for Bus. Or should we say "Taxi" this year? They're both yellow…
B is for Books. Whether anyone wants to admit it or not, Books are the Backbone of education and were there long before the Internet, and will be there long after. Tech-dazzling gadgetry only gets you so far, and I'm willing to Bet nearly everyone learned to read from a good old-fashioned Book.
B is for Bug, as in Bacteria. I can only imagine how illnesses are going to affect the more heavily populated classrooms this year. Anti-Bacterial gel, anyone?
Lastly, B is for Begin. This is the Beginning of a whole new year, so Best Wishes 2010-2011. You may Begin.