A stitch in time wins Best of Show
September 1, 2010
/
/
Comments Off

on A stitch in time wins Best of Show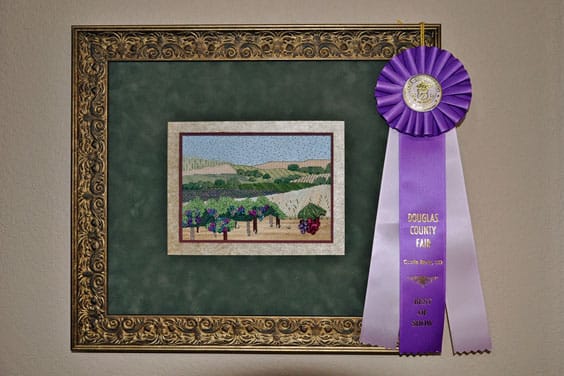 Article by Kathy Dunker with photos courtesy of Julie Storick
Castle Pines North resident Julie Storick was the proud winner of the needlepoint Best of Show award at this year's Douglas County Fair in August. Since Storick began her hobby with classes in Sacramento and weekend stitching retreats to Napa Valley, it comes as no surprise that the subject of her award winning piece is the winery hills of Sonoma. Her handiwork in this piece includes stumpwork, which is stitching in 3D, a grape cluster, which is wood beads wrapped in thread, and leaves stitched on wire and cloth, and attached to the picture.
Storick, now a veteran needlepoint enthusiast, began doing cross stitching after college as a past time while working in the IT industry. With her career being highly technical she says, "I needed some type of creative outlet." Cross stitching soon led her to needlepoint, when Storick realized that she could use more decorative stitches with texture. "Needlepoint as an industry has gotten quite advanced in the last two decades and offers some amazing designers and products," says Storick. "It's not your 'grandma's' stitching anymore!"
After moving back home to Colorado 10 years ago, Storick joined the local chapter of the American Needlepoint Guild (ANG) which she is still a part of and serves as their historian. In addition, Storick teaches a class each July for painted canvas needlepoint, out of the local shop Diversions www.diversionsneedlepoint.com.
Storick has completed numerous projects over the years, including Christmas stockings for each member of her family, annual Christmas ornaments for her daughter, Kelly, and son, Evan, and has even made ornaments for the family pets. What she enjoys most are the larger projects, which give her a very big sense of accomplishment when finished. Storick hopes these pieces will eventually become family heirlooms.
Why is Storick still stitching almost 25 years later? Well, she still works in the IT industry for the very same company. As a result, she continues to enjoy her needlepoint, finding it quite calming. As Storick quips, "It also really passes the time during boring football games." Most importantly, Storick points out, "I have made so many wonderful lifetime friends through stitching and that alone makes it all worthwhile."
If you'd like to find out more about needlepoint, visit the national organization's website at www.needlepoint.org or their local chapter at
www.columbineang.org.