A Winter Berry man with a very big hobby
September 1, 2010
/
/
Comments Off

on A Winter Berry man with a very big hobby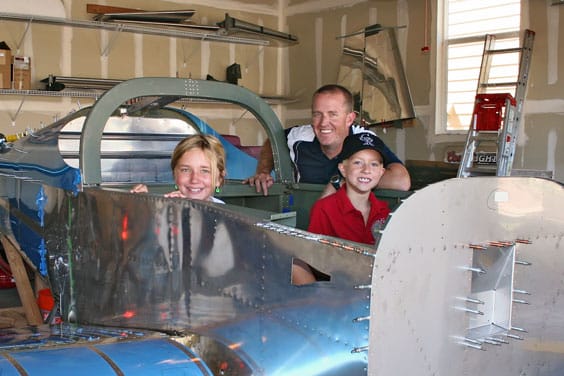 Ready for take off… well, not just yet. Quam expects his plane to be completed in the summer of 2012.


Article and photos by Kathy Dunker
A lot of men have hobbies whether it is golf, wood working, or collections. However, Winter Berry resident, Mike Quam, has taken his hobby to a whole new level. Quam is in the process of constructing an airplane inside his garage.
Quam, a native Coloradan and graduate of Columbine High School, began his interest in flying at the age of 17. Through private lessons at Centennial Airport he became a licensed pilot in single, multi-instrument, and commercial flight. He then moved to Tucson to attend University of Arizona where he worked part time as a flight instructor.
Quam returned to Colorado after college, and quit flying for the following ten years. But his love for tinkering, combined with a lifelong desire to own his own plane, led Quam to pursue building an airplane himself. The Vans Aircraft, four-part sequential kit began with the tail or empennage, followed by the wings, and then the fuselage. The final finish kit, including the landing gear and engine mount, will need to be completed at a local airport. Quam so far has put in 750 assembly hours over the last two years and is currently working on the fuselage.
Considered an "experimental aircraft" since it is not being constructed by a known manufacturer such as Cessna, Quam finds this a much more affordable option for owning a plane. Purchasing a brand name plane requires a licensed mechanic to perform any and all maintenance. Since this plane's manufacturer is essentially Quam himself, he is allowed to do the maintenance personally. Quam is confident in performing this maintenance as he states, "I know every bolt and every rivet involved in putting this plane together." Quam's finished product will be a two seater, side by side, propeller plane with a piston engine.
While Quam will eventually need to move his plane to a hangar, he currently has portions of it stored in his garage and his basement while he progresses with the assembly. After his kids are in bed at night, Quam often finds himself working on his plane until the wee hours of the night. Once it is completed, the plane will be inspected by the FAA to attain an Airworthiness Certificate. Quam anticipates final completion to be the summer of 2012 when he will be hitting the skies in his new creation.
If you'd like to find out more about the experimental aircraft, visit EAA's website at www.eaa.org or the Vans Aircraft website at www.vansaircraft.com.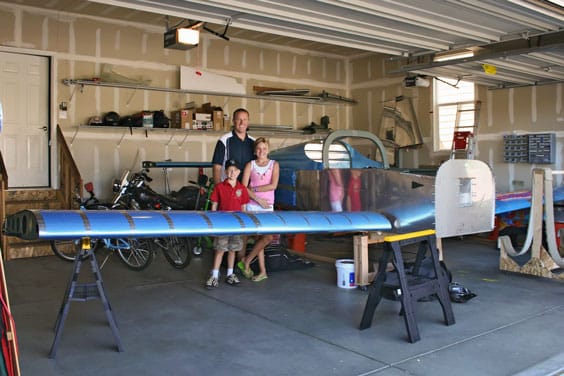 The Wright Brothers have nothing on Mike Quam (pictured with son Nicholas and daughter Alix), the proud builder of this Vans RV-9A.