Buffalo Ridge Elementary fosters student leaders
October 1, 2019
/
/
Comments Off

on Buffalo Ridge Elementary fosters student leaders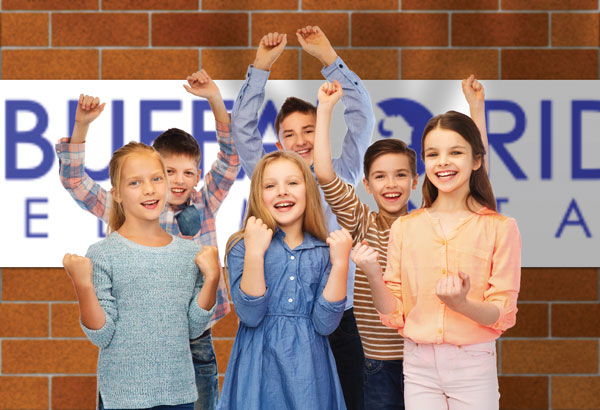 By Celeste McNeil; courtesy photo
Student government is the most well-known example of school-based student leadership groups. But the opportunities at Buffalo Ridge Elementary (BRE) are much broader. BRE hosts several options for students in third, fourth and fifth grade interested in leadership.
Green Team
The Green Team consists of 20 third, fourth and fifth graders who are interested in helping the environment. Recycling, conservation, sustainability and waste reduction are major initiatives for Green Team. Green Team has demonstrated a practical application of their passion. In the past three years, they have been credited with writing and receiving a grant to replace old leaking faucets, and entering an energy saving competition, which won a solar panel for the school. In addition, they participated in the DCSD upcycle challenge to bring awareness to the importance of proper trash disposal.
Art teacher Tim Ryckman sponsors two leadership clubs, Yearbook Crew and BRE TV.
Yearbook Crew
Fourth and fifth grade students are eligible to apply to Yearbook Crew. Roughly 20 students build the yearbook from the ground up each year. They are responsible for photography, design and theme. "Students are responsible for one or two spreads in the book, so they have to go shoot pictures, gather quotes and build the page in our publisher's layout software. They do an amazing job," stated Ryckman.
BRE TV
BRE TV was first offered last year. Fourth and fifth grade students learn to shoot and edit video. Ryckman explained "the kids make short [BRE] news stories then go live in front of a green screen to introduce the stories and put them together into episodes which are played to the whole school at our celebration assemblies."
Dream Team
Dream Team is for the students who want to be active leaders in their school and the broader community. Student led and teacher supported, the kids will "reach out to people in the community to get their feedback on what they think Castle Pines needs," stated Sierra Chartier, a teacher sponsor. The Dream Team then creates school-wide projects or drives to help fulfill the community's needs. This organization is the closest to traditional student government/council.
Health Team 4
Health Team 4 is a student advisory committee of 20 fourth grade students. Their aim is "to engage and empower BRE students to take action regarding their physical, and mental health by implementing long-term, positive changes for themselves, their school and inspiring their friends to do the same" stated school counselor Alexandra Nardi. Supporting the annual Rock Slide fun run (Saturday, October 5), leading classroom brain breaks, and kindness campaigns are a few of the initiatives of Health Team 4.
There are many additional enrichment-type classes at BRE that build school unity while not necessarily focusing on leadership. No matter what your area of interest there is something for everyone at BRE.