A passion for words leads to the Scripps National Spelling Bee
September 1, 2019
/
/
Comments Off

on A passion for words leads to the Scripps National Spelling Bee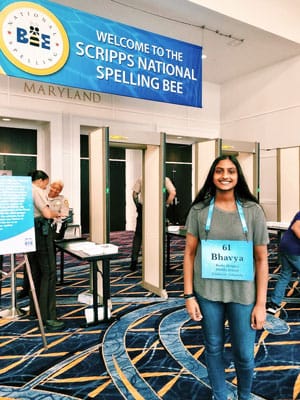 Bhavya Surapaneni (13) was selected to compete at the Scripps National Spelling Bee in Maryland in May after competing in several local spelling bees.

By Lisa Nicklanovich; photo courtesy of Bhavya Surapaneni
Bhavya Surapaneni has no need for spell-check, placing first in the Rocky Heights Middle School (RHMS) and Douglas County School District (DCSD) spelling bees. From those victories, Bhavya was selected to compete in the Scripps National Spelling Bee in Maryland in May.
Bhavya's interest in spelling bees began when she was in second grade and she realized that she could spell most of the words from her fourth grade sister's spelling bee word list without having studied the words. She decided to compete in the North South Foundation Sub-Junior Spelling Bee in the Denver chapter, and she won.
While the Douglas County Spelling Bee has been one of Bhavya's favorite spelling experiences, "because the competition gets more intense and it's so cool to talk to people that you don't see regularly but still live near you." Participating in the Scripps National Spelling Bee was "hands down the coolest thing I have ever done," Bhavya said.
Bhavya described the week she and her family spent in Maryland for bee week as "exciting, surreal, nerve-wracking, terrifying, crazy, fun, and immeasurably memorable." Bhavya remembers the words she had to spell on stage and she spelled them correctly. "Unfortunately, my preliminaries score was not enough to make the finals, but I was still proud of how I did during bee week. I ended up tying for 51st because I spelled my round two and round three words correctly."
Watching the finals, which were broadcasted on ESPN, was especially exciting because it ended in an unprecedented way; in the 92-year history of the competition, there have never been eight co-champions. Bhavya added, "It was awesome because I can say that I witnessed history, and it was one of the most exhilarating and thrilling things to watch."
Bhavya has lived in Castle Pines for 10 years and is a freshman at Rock Canyon High School. She is ready to jump into many activities and clubs, such as playing violin in the Chamber Orchestra, participating in Science Olympiads, Brain Bowl club, Future Business Leaders of America and math club. Bhavya is thinking about starting a spelling club because, "I know that there are other students that are passionate about words and like learning about spelling and vocabulary." Bhavya also sings and plays the guitar, piano and oboe, in addition to the violin.
Bhavya said her older sister, Sriya, is her best friend and a huge part of who she is. "I am also extremely close to my mom and dad, and they have been so supportive of my spelling journey, and I am infinitely thankful for them."