Buffalo Ridge Elementary honors perfect attendance
July 1, 2019
/
/
Comments Off

on Buffalo Ridge Elementary honors perfect attendance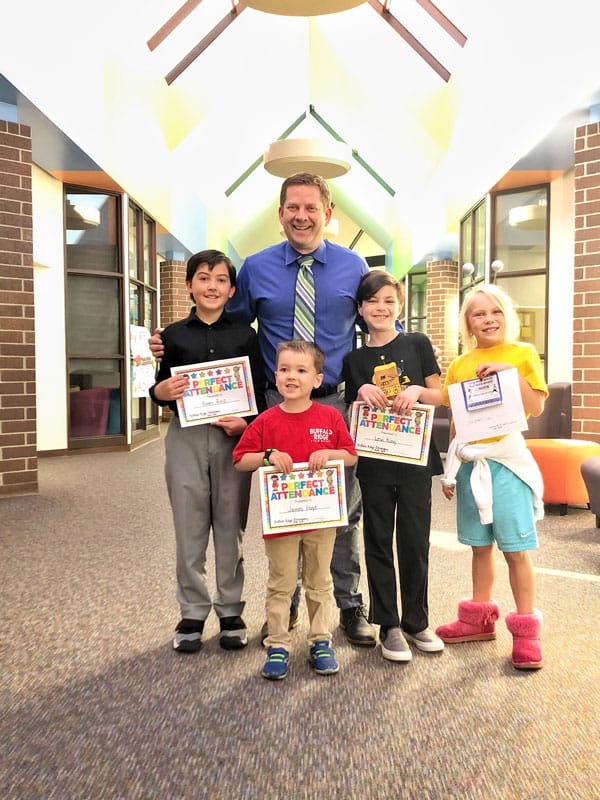 Principal John Veit celebrated four students who earned perfect attendance in the 2018-2019 school year at Buffalo Ridge. Left to right: Evan R. finished elementary school with perfect attendance; James H. started his first year off with a perfect record, never missing a day of school; Levi K. attended school for 1,218 hours; and Addy M. hasn't missed a day of school in the past two years.
By Celeste McNeil; photo courtesy of Corin Meibos
The Webster's New World College Dictionary defines "perfect" as "entirely without any flaws, defects, or shortcomings" and "accurate, exact, or correct in every detail." Four Buffalo Ridge Elementary (BRE) students were recognized for perfect attendance on the last day of the 2018-2019 school year: James H. – kindergarten, Addy M. – second grade, Levi K. – fourth grade, and Evan R. – fifth grade.
In their exact attendance, these students were in school for 9.75 months, 38.7 weeks, 174 days or 1,218 hours. Their achievement might be better comprehended by realizing they never missed school because of sickness, vacation or even just because they slept in. These four students never arrived late or left early – attending all 73,080 minutes of the school year. This is the second consecutive year Addy was recognized for perfect attendance!
In addition to being congratulated over the PA system, each student had their picture taken with Principal John Veit. They each received a prize bundle, including a certificate to visit SeaQuest Littleton, bowling and laser tag at Celebrity Lanes, and a ten-punch pass at the Miller Activity Center (MAC) in Castle Rock.
With six weeks left before BRE begins the 2019-2020 school year, we hope James, Addy, Levi, Evan and the rest of the students play hard, have fun and soak up the sun. The new school year will be here before we know it.