Castle Pines couple shares their love of wine in new business
November 1, 2011
/
/
Comments Off

on Castle Pines couple shares their love of wine in new business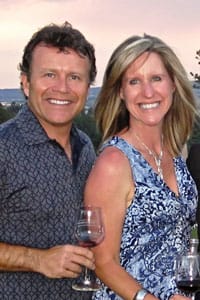 Steve and Kelly Durie each enjoy a glass of their passion on the deck of their Glen Oaks home in Castle Pines.
by Tricia Wackerly with photo provided by Kelly Durie
It has been said that to truly be successful you should love what you do every day. Castle Pines residents Steve and Kelly Durie have taken that to heart and turned their love of wine into a new business venture.
The Durie's retirement plan always involved moving to California and owning a vineyard. Their appreciation and passion of the wine business was enhanced while on a trip to Sonoma County and Napa Valley a number of years ago. The couple, not the type to sit back and wait to do what they love, launched Uncorked Wine Parties in 2010.
Both certified wine sommeliers through the International Wine Guild, Steve and Kelly have studied wine for years. Steve has a true passion and knowledge for the grapes and wine making process. "Each person will have a different experience during a tasting. Some may get a whiff of tobacco, oak, apples, cherries, oak, etc. Wine shows itself differently to each individual," Steve explains. "I may smell and taste a wine and have an experience very different from you. It takes practice to isolate the different smells with the bouquet of a wine."
Kelly, who studied permaculture at the Permaculture Institute in Santa Fe, New Mexico, uses those same sustainability concepts in her wine life as well. "I love the science of wine. Wine is always in motion. It's alive. From grapes growing on the vine, to the wine making process, to the bottle, to your glass. Wine provides health, joy and brings people together," explained Kelly.
The Durie's, through Uncorked Wine Parties, represent a line of unique, small batch, handcrafted, artisan wines from California's famed Napa Valley, where most of the wines sell out quickly but are then replaced with an another batch of a different selection of handcrafted wines.
When you invite Uncorked Wine Parties into your home, you're getting an opportunity to explore great wines effortlessly and in a fun setting, all while Steve and Kelly impart some of their sommelier education on to you and your guests. The Durie's also offer hostess ideas and recipes that will pair well with the wines they will sample. "We'll help you swirl, sniff, taste, talk, giggle and, in the end, you'll most likely find your new favorite wine," they explain.
Uncorked Wine Parties also offer wine accessories, food gift baskets, and custom label wines for gifts and events. To learn more about Uncorked Wine Parties or book an in-home tasting, go to www.UncorkedWineParties.com.
The Durie entrepreneur spirit and passion is apparent in their other business as well, SecureSearch Integrated Background Checks. "Safe kids, safe community and safe environment is something we truly believe in and try very hard to promote at SecureSearch and to our clients," said Steve. The Durie's are obviously doing what they love in both business, so is it any surprise success has followed them?