Castle Pines food blogger creates a stir
October 1, 2014
/
/
Comments Off

on Castle Pines food blogger creates a stir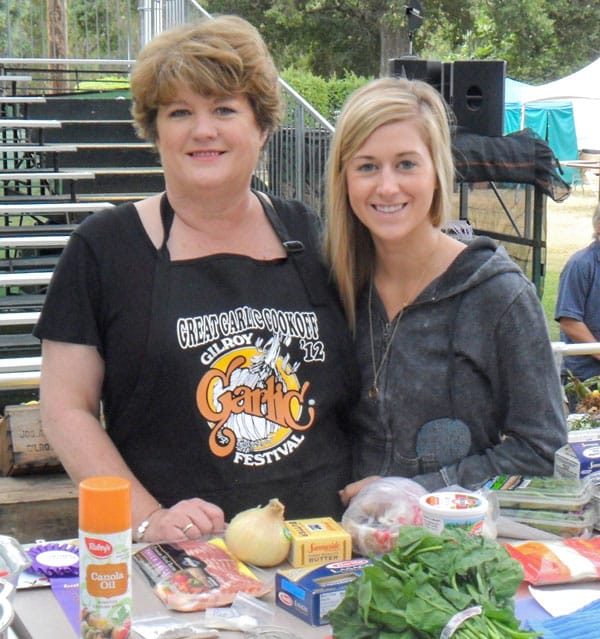 Karen Harris with her daughter, Grace, at the Gilroy Garlic Festival in 2012. Harris won top honors with her carnival style fish sticks and garlic slaw.
By Lisa Crockett; photos courtesy of Karen Harris
Castle Pines resident and home chef Karen Harris is a winner. Drawing on the things she learned in the kitchen during her Texas childhood, her cooking skills and knack for recipe creation have helped her garner national attention. She's won awards from the Pillsbury Bake-Off, Rodelle Vanilla, Ocean Spray, Southern Living Magazine, and the Gilroy (California) Garlic Festival, to name a few.
"I enter a lot of contests, and I win a few," said Harris, who seems to take her winnings in stride. "I've been entering contests for about ten years now, and I really enjoy it. And, it's fun to win."
She has always enjoyed cooking for friends and family, but Harris didn't step into the limelight until after she and her family spent several years in England for her husband Mark's job.
"I started out adapting English recipes for my American friends and American recipes for my English friends. Flour there is different, and measurements need to be changed, so I would adjust the recipes and e-mail them to my friends," said Harris. "Food blogging was catching on, and I decided that posting recipes to a blog would be easier than e-mailing, so I started a blog."
And so "Savoury Table," Harris' blog was born. It has garnered attention from several different sources, including being named one of the Top 20 Colorado Cooking blogs for 2013 by Indulge Bakery, which touted Savoury Table's "exquisite directions that anyone can follow."
The blog is a place for Harris to chronicle her contest winnings and much more. Though her recipes are Martha Stewart-worthy (Harris appeared on her show to make her award-winning Baby Sweet Potato Cakes with sticky caramel sauce and pecans). Her creations run the gamut from gourmet to everyday. Her "Something from Nothing" feature on her blog is full of dishes that require simple, pantry-staple ingredients and a minimum of fuss. It's something she feels strongly about.
"A lot of these dishes are things people can make for just pennies a serving," said Harris. "Here [in Castle Pines] most of us are used to pretty much cooking with whatever we want, but not everyone has that luxury. I like to think that these are the kinds of recipes people who are young or on a budget can make to have something simple and home cooked without spending a lot of time or money."
Homemade ricotta cheese, which is made with just milk, cream, salt and lemon juice, was recently featured on the blog. Another favorite is Italian cookbook writer Marcella Hazan's simple tomato sauce recipe, which Harris blogged about in 2012.
"I get really excited about helping people find ways to cook," said Harris. "It's getting harder to find things that I can use in my 'Something for Nothing' series, but I kind of like that challenge."
Karen Harris blogs at www.savourytable.com.
Chicken Enchilada Mac and Cheese is a popular favorite on food blogger Karen Harris' "Savoury Table."