Community honors the memory of a boy through play
October 1, 2014
/
/
Comments Off

on Community honors the memory of a boy through play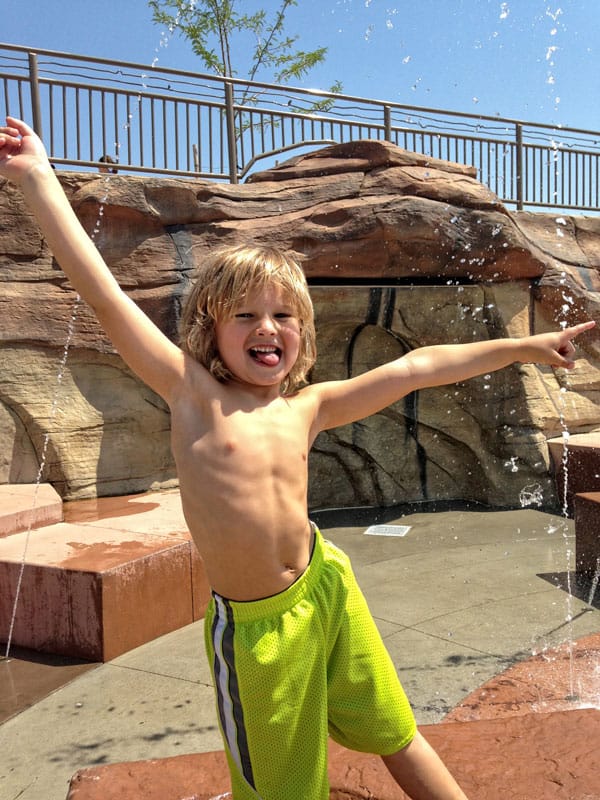 Five-year-old Trey McCleery at the splash pad in Elk Ridge Park. Prior to passing away this summer, it was one of his favorite spots to play.

By Lisa Crockett; photos by Dave Tweed and courtesy of the McCleery Family and the City of Castle Pines
It has been said that play is the work of childhood. If that's true, then six-year-old Trey McCleery worked overtime nearly every day. A sports enthusiast, he rarely sat still, loved to play games, play at the park, and play with his friends. In fact, if Trey's life had a theme, it was play.
That play came to an abrupt end when Trey passed away unexpectedly in June. Since then, his family, friends and the community have been honoring his memory in a number of ways. Last month, as part of the Castle Pines annual "Run Wild" race, a bench bearing Trey's name was dedicated in Elk Ridge Park, a place he loved with all his heart. Trey's friend Skylar Ingraham, who had been both a soccer teammate and classmate in kindergarten at Timber Trail Elementary, worked with her mom, Wendy, to raise funds for the bench as a way to remember her friend.
"Every summer we have a 'blowout' birthday party for Skylar that also doubles as our family's annual summer party," said Wendy. "This year, Skylar asked that instead of presents for her birthday, people donate money for the bench at the park."
The bench is Trey's favorite color – green – and is dubbed "Budders Bench" for the term of endearment used for Trey by nearly all his friends and family. It is situated at the edge of Elk Ridge's splash pad, a place Trey spent countless hours playing. After the bench was dedicated, Skylar and Trey's other kindergarten classmates buried a time capsule of memories and expressions of love for Trey in the cement next to the bench. The time capsule is scheduled to be opened when the kids graduate from high school in 2025.
"We had such a wonderful turnout," said Wendy, who has been on the Run Wild organizing committee for the last three years. "It was great to see the community's support for Trey's parents Donny and Mindy."
Part of the proceeds from the Run Wild race will be donated to "Play for Trey," a fund established in the wake of Trey's passing as a way for people to express condolences. Originally called the Trey McCleery Memorial Fund, it was re-named by Trey's cousins, Adam and Blake Cherry, to highlight Trey's fun-loving and active approach to life.
"We are so grateful for the support we've received," said Trey's dad, Donny. "When we think about what we want to do to remember Trey, we especially think about his generosity with others. He was always giving his things away to other kids, he was very generous." Donny also cherishes the memory of Trey's infectious laugh, while Mindy says his personal motto seemed to be: Play Hard, Have Fun. In that spirit, Play for Trey will give opportunities for fun and play to kids who might not otherwise get them. "We want to give kids the chance to play on sports teams, take music lessons, go skiing," said Donny. "We want kids who are less fortunate to have a chance to try those things that Trey loved so much."
The sense of play surrounding Trey's memory is evident, even now while the grief about his passing is still fresh and raw. To date, the Play for Trey Foundation has distributed nearly 1,300 green wristbands bearing the words "Play for Trey." The wearers of those wristbands now regularly post their recreational activities on social media, keeping Trey's memory alive and well. At the Run Wild event, a team of Trey's friends and family dressed in green and ran the four-mile race in honor of Trey. "Trey ran this race for the first time last year," said Mindy. "He would have loved that people were here running for him."
For information about Play for Trey, visit www.youcaring.com/memorial-fundraiser/trey-mccleery-memorial-fund/191873.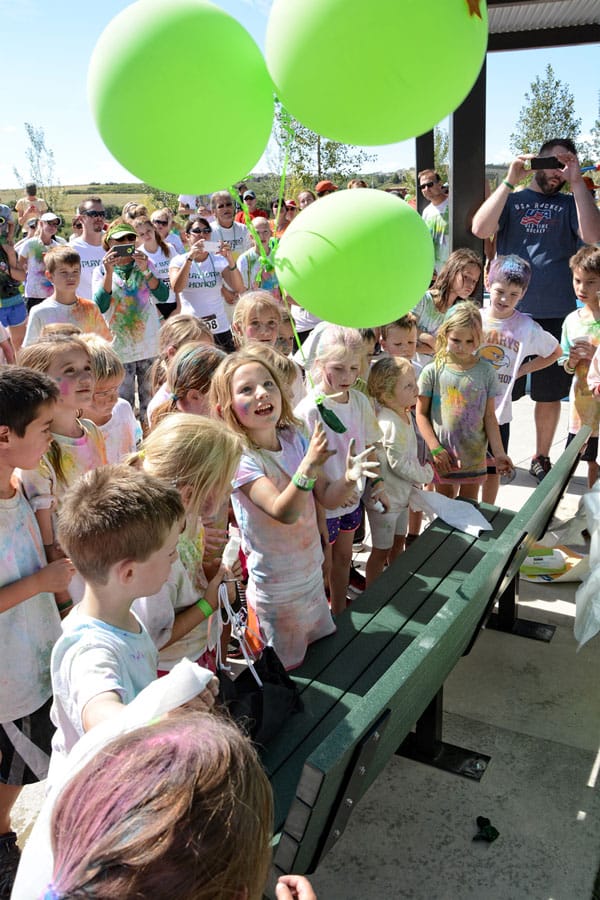 Classmates from Trey's kindergarten class at Timber Trail Elementary gathered to write chalk messages, embed a time capsule, and release balloons in Trey's honor.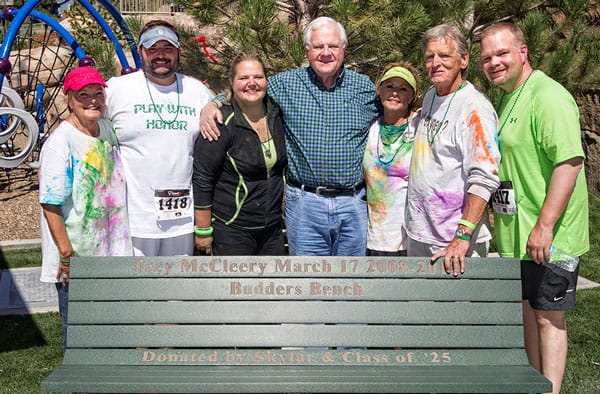 Trey's parents, Donny (second from left) and Mindy McCleery (third from left) and extended family gather at "Budder's Bench" at the conclusion of the City of Castle Pines Run Wild event.