Local musician's career matures like a "Butterfly"
October 1, 2014
/
/
Comments Off

on Local musician's career matures like a "Butterfly"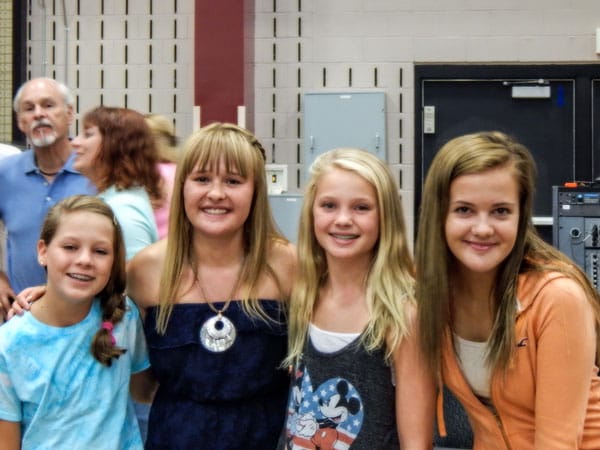 Local recording star Taylor Rae with friends from Rocky Heights Middle School after a performance at the Douglas County Fair. Left to right: Alaina Spangenberger, Taylor Rae, Kara Lencke, and Adison Hirsch.
By Lisa Crockett; photos courtesy of the Muckel Family
Taylor Muckel, now known in the music world as Taylor Rae, is a 13-year-old seventh grader at Rocky Heights Middle School. But even at her young age, she's a seasoned professional in the music business. She has taken her music to the next level in the last few months though, by writing her own music and releasing new singles that she recorded in New York last spring with famed music producer Jimmy Greco, who has worked with top-billed stars like Celine Dion and Jennifer Lopez.
"I have two new songs, 'Superstar' and 'Butterfly,' but I did a pop version and a country version of Butterfly," said Muckel. "I guess I'm more of a country singer, but I can't really be placed in a genre. I like to sing everything."
Writing was a new endeavor for the young teenager, but she found it to be a great outlet for the frustration she experienced with navigating a changing and challenging social landscape.
"I find that songwriting is a way of emotionally connecting with other people," she said. "I hope that people feel good when they listen. The songs are about letting go of feeling bad when other people are unkind. Everyone deserves to be a superstar and that's what this music is about."
Recording and songwriting are the next steps on the path to music stardom for Taylor Rae. Someday she hopes to win a Grammy, but in the meantime she's working on honing her guitar skills along with her voice.
"The next time I record, I want to play the guitar," she said. "Recording in New York was crazy and I was pretty nervous, but once we got there I felt really safe and at home. I can't wait to do it again."
You can download Taylor Rae's music on iTunes or catch Taylor Rae performing locally, as she has for the last several years. A little girl with a big voice, sharing a message of hope.
"I really love to get out and perform," she said. "When people listen to me, I want them to be inspired. I hope other kids can learn from me."
For more information about Taylor Rae's music and upcoming performance dates, visit www.officialtaylorrae.com.