Castle Pines North Mailing Addresses
February 1, 2009
/
/
Comments Off

on Castle Pines North Mailing Addresses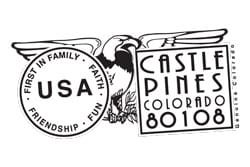 by Terri Wiebold
Many residents have inquired about the status of the 80108 zip code for Castle Pines North (CPN), and whether to address labels with "Castle Rock" or "Castle Pines North."
According to the USPS, The zip code of 80108 has remained unchanged and will continue to be the zip code in CPN until such a time that the population increases dramatically. The US Post Office is concerned only with the zip code designation and not specifically the city name.
Please be aware that when filling out address information for legal purposes, many documents may contain the "Castle Rock" designation, and using the CPN designation may create discrepancies that could cause confusion.
While 80108 is the official zip code for the City of Castle Pines North, it is also the zip code for parts of unincorporated Douglas County, as well as the Town of Castle Rock.
For further clarification, visit the USPS web site at www.usps.com.