Castle Pines North Optimum Wellness Lunch N Learn
December 1, 2008
/
/
Comments Off

on Castle Pines North Optimum Wellness Lunch N Learn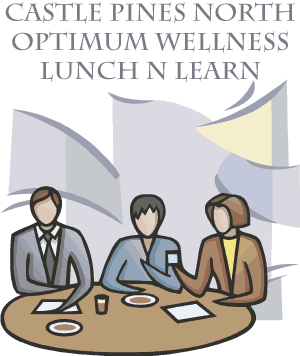 Presenters Victoria Torok, CPT and owner of Elite Mobile Fitness, and Dr. Clint Dickason, owner of Dickason Chiropractic, have teamed up to get CPN residents to new levels of fitness.
Torok and Dickasen are offering a free lunchtime seminar series to begin soon after New Year's Resolutions are made. Mark the calendar for these special events coming in 2009:

January 14
Having the Body You Deserve Learn to burn fat, lose inches, and pitch the scale forever.

February 11
Natural Management For Your Stress and Pain – Learn how pain and stress are related and how you can treat them both naturally and effectively.

March 11
Anti-Aging – Learn how you can slow, stop and even reverse the effects of aging – naturally.

April 8
Are You Sick and Tired of Feeling Sick and Tired? -?Learn how your food choices impact your mental clarity and your ability to stay focused throughout the day.
Reservations are required. Please contact Victoria Torok at 303-369-5378. All sessions will be conducted at HOA1 7233 Tenby Way, from noon – 1 p.m.