Castle Pines Village mom at the helm to help those with special needs
December 1, 2009
/
/
Comments Off

on Castle Pines Village mom at the helm to help those with special needs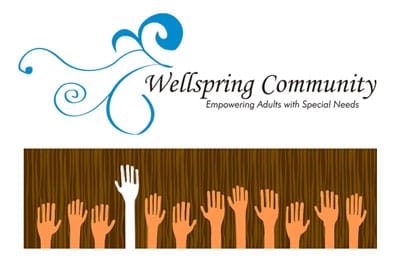 by Sally Uhrich
For parents of children with special needs, planning for the future can be quite the dilemma. Such is the case for village resident, Mary Lou Fenton, who has a special needs daughter, Emily.
In an effort to plan for her daughter's future, Fenton organized a group of parents to create a work and residential community for adults with special needs.
Wellspring Community was incorporated in February 2008. Work and enrichment programs are offered here in Douglas County, with the support of local churches, businesses and other organizations.
Participants meet weekly at a local commercial kitchen to make cookies for the developing, Best Buddies Bakery. Other endeavors include the making and selling of votive candles and Christmas ornaments for their Wellspring Wonders Workshop. In
"We want our kids to have full, productive and satisfying lives," says Fenton. "Every person has great potential and purpose, regardless of ability. Our goal is to empower these individuals by putting the support and modifications in place that are necessary for them to be successful and to access opportunities to enjoy life to the fullest."
The group is now working to raise money to move on to their next phase- to secure their own facility and hire staff. A full time program will be offered to continue developing and expanding their business enterprises.
Wellspring will hold its' first fundraising event at Cielo at Castle Pines on December 10, 2009, from 6-9p.m. Tickets are $50 per guest. For more information, call 303-660-1935 or email contact by e-mail.