Castle Rock Chamber of Commerce celebrates 60 years of success
June 1, 2015
/
/
Comments Off

on Castle Rock Chamber of Commerce celebrates 60 years of success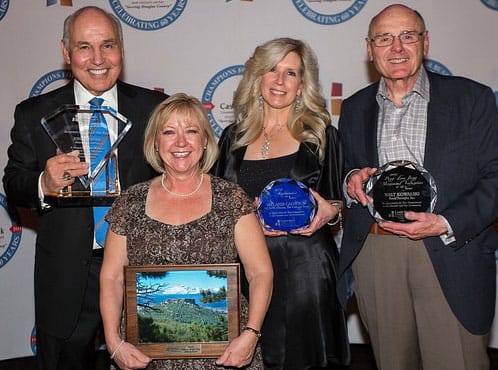 2015 Chamber award winners (left to right): John Medved, Donna Scott, Melanie Calhoun, and Walt Kowalski.

Press release and photo provided by Castle Rock Chamber of Commerce

The Castle Rock Chamber of Commerce honored John Medved, Donna Scott, Walt Kowalski, Sally Misare, and Melanie Calhoun for their exceptional community efforts April 24 at the Castle Rock Chamber of Commerce annual banquet, held at the Denver Marriott South.
The year's celebration was indeed special as the Chamber celebrated 60 years of supporting and promoting the Castle Rock business community and its residents.
John Medved of Medved Autoplex was named 2015 business person of the year (BPOY), despite strong competition from three other nominees: Todd Folkenberg, Castle Rock Adventist Hospital; Dean Lewis, Pure Water Solutions; and Russ McCombs, Sunset Stone.
Donna Scott, of Scott & Associates was selected as the citizen of the year. The Ping Lee Jung volunteer of the year honor went to Walt Kowalski, BreakThroughs, Inc. The Castle Rock Advocate award winner was Sally Misare, Town Clerk for the Town of Castle Rock, and the Ambassador of the year recipient was Melanie Calhoun from RE/MAX Alliance, The Calhoun Team.
Banquet goers were treated to dinner and a movie at this year's event. Mark and Sandy Michael of Versatility Creative Group created featured films depicting each of the BPOY nominee's favorite decade. Who knew these business people were so talented and funny? View videos and event photos on the Chamber's website at www.castlerock.org/annual_banquet.htm.
John Medved humbly accepted the top honor as BPOY and joked that he was hoping to win it before his daughter, Whitney took over the family business.
"Castle Rock's business community is about to explode and the Castle Rock Chamber is going to be even more important and relevant than ever as we grow to 100,000 people," said Medved.
The chamber's vision of igniting passion for business success and community prosperity was evident at this year's event, when nominees reflected on the Chamber's 60-year commitment to the business community. Many applauded the longevity and successes of the organization's efforts, and even boasted of the Chamber's unwavering support to the business community and its residents.
To learn more about the Castle Rock Chamber, visit www.CastleRock.org.