Check running a marathon off the bucket list
June 1, 2016
/
/
Comments Off

on Check running a marathon off the bucket list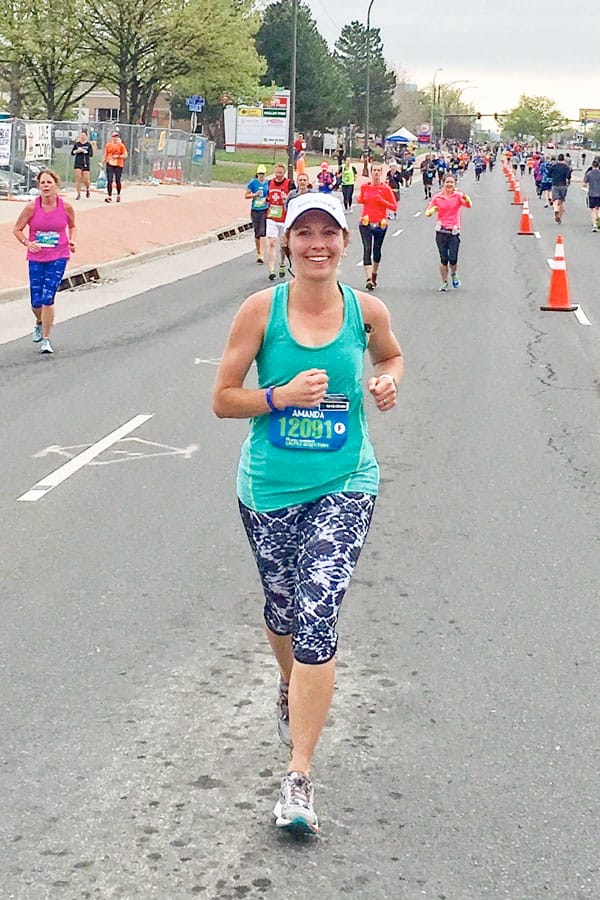 Castle Pines Connection writer Amanda Merriman hoofing it at the Colfax Marathon while her proud husband snaps a photo of her running her first marathon.


By Patte Smith; photo courtesy of Amanda Merriman
Castle Pines Connection staff writer Amanda Merriman is a mother of three, wife, nurse and now a marathon runner. Merriman finished her first marathon, the 26.2-mile Colfax Marathon cheered on by family and friends on May 15, a goal that had been on her "bucket list" since high school.
"As I rounded the last corner and saw the finish line, I almost started crying, thinking I'm really going to do this – it felt surreal! I heard my family and friends cheering for me and it carried me through even though my calves were cramping up as I tried to sprint. I was happy, exhausted and sore – I wanted to soak in an Epsom Salt bath, take a nap and eat!"
Merriman didn't get serious about running until a few years ago. She had run two half marathons in the past and on a whim, made a New Year's resolution to run a marathon. She followed an 18-week training program offered by the Another Mother Runner organization. "It is a great program that involved running about four days a week, strength training, cross-training, stretching, and foam rolling out those sore muscles. I would switch it up with yoga, barre, Pilates or spin classes."
Merriman was nervous and excited the night before the race, but said she was ready. "I put faith in my training plan and believed in myself. When I was at the starting line standing in the crowd of like-minded people who were feeling like I was, waiting for the starting gun, it was a cool feeling. It helped calm my nerves."
The Colfax Marathon encourages runners to partner with a charity of their choice for the marathon. Merriman chose The Second Wind Fund, an organization created to connect youth at risk of suicide with mental health services. "I chose this charity because it is close to my heart. My biological father committed suicide and I wanted to do something positive in his honor."
Around mile 23 the going got tough so Merriman focused on the Second Wind Fund, her training, and her family and friends waiting to see her finish. "This kept me going," she laughed, "one foot in front of the other. They were very proud of me, and my daughter Sydney said she wants to run a marathon with me when she gets older. My husband John said it was quite an accomplishment."
Merriman says someday she will run another marathon. Her goal is to stay strong and healthy and show her children to believe in themselves and that they can accomplish amazing things. "I would love to be able to qualify for the Boston Marathon one day," she noted. "That will involve cutting a lot of time off my current pace. But 'I think I can, I think I can, I think I can'…"