Colorado Christian University looking to build in the Castle Pines vicinity
January 1, 2010
/
/
Comments Off

on Colorado Christian University looking to build in the Castle Pines vicinity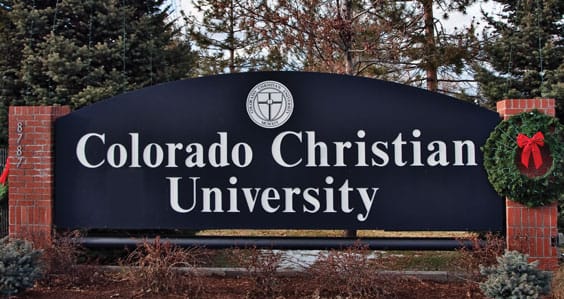 There may be a new pride of cougars in wildcat country if considerations to sell a portion of land in the Highlands Ranch "backcountry" wildnerness area come to fruition. Colorado Christian University has expressed interest in the property, located just west of Monarch Boulevard south of Rocky Heights Middle School, as well as exploring other possible alternatives. The Highlands Ranch Community Association owns the land and is weighing its options.


By Lisa Crockett
The Highlands Ranch Community Association (HRCA) has received a request from Shea Properties and Colorado Christian University to consider selling approximately 100 acres of land to the educational institution in HRCA's "backcountry" wilderness area. The parcel of land in question is on the west side of Monarch Boulevard, about one mile south of Rocky Heights Middle School.
"The HRCA Board wants to take the necessary time to gauge community interest and make the best decision on what the community wants," said HRCA Community Manager, Gary Debus.
The construction of a college campus is allowable under the zoning restrictions put in place for the land by the county in a planning document approved by the county in 2000. According to the Open Space Conservation Agreement (OSCA), land may be used for "public and private colleges and universities . . . with structures [per building] not to exceed 50,000 square feet in areas where access is available."
Colorado Christian University (CCU) is a small private school currently located in Lakewood. In a written statement provided to The Castle Pines Connection, CCU President Bill Armstrong said that building a new campus on Monarch Boulevard was a desirable option for the school, but by no means the only option the university is considering.
"This is not a done deal, far from it, just an exploratory conversation. Neither CCU nor HRCA is committed," said Armstrong. "The university is continuing to consider other options, including re-developing our present campus."
Though the inquiry is being seriously considered by the HRCA, no decisions had been made and as of press time; no timetable for making a decision on the matter had been decided by the HRCA. Though the HRCA has solicited input from neighboring communities, it alone will decide whether or not to sell the land to CCU. Several residents in Highlands Ranch and Castle Pines North have expressed their opposition to the plan, including some government officials.
"While the County and Highlands Ranch have been involved in this effort for some time, when we learned of these ongoing negotiations months ago we immediately started to propose alternative sites knowing the extreme impact a college campus located just north of Castle Pines North and off of Monarch would have on our community," said Castle Pines North Mayor Maureen Shul. "We will continue our efforts to protect and preserve the
quality of our city."
If the HRCA does decide to sell the land, any construction would have to go through established approval channels with Douglas County, including reviews of traffic impacts, drainage, and soil erosion. CCU has not made any determinations as to the number of buildings or size of the student body which would eventually be attending classes, should they develop at that location.
"Even if [the sale of land to CCU is] approved by CCU and the HRCA, it will be several years before we can build a new campus," said Armstrong.
The HRCA has also discussed the possibility of partnering with several community entities in construction of so-called Wildcat Regional Park (possibly including park areas and recreational facilities) in the backcountry wilderness in the area bordering the west side of Monarch Boulevard. No firm plans or decision-making timetable exist at the current time for the park.
To view the "Highlands Ranch Open Space Conservation Area Plan" in its entirety, go to www.hrcaonline.org, click on "Recreation," then "Backcountry Wilderness Area," then "Public Documents and Maps."
To learn more about the CCU Cougars, go to www.ccu.edu.