Winter sports season begins at RCHS
December 1, 2009
/
/
Comments Off

on Winter sports season begins at RCHS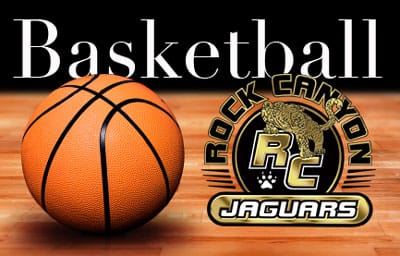 by Scott Lasher
Sweet silver bells will soon be ringing, which can only mean two things – the holiday season is upon us, and so is the winter sports season at Rock Canyon High School. Here is a preview of the upcoming season for a few winter sports:
Boy's basketball

After winning the first playoff basketball game in RCHS history last season, Coach Jim McClurg and the Jags will be looking to advance even further in the state tournament this season.
"We are looking to advance past the second round of the state tournament this year," McClurg said. "We want to be one of the top 2 or 3 teams in our league and play for a state championship."
McClurg said he is looking for junior Matt Hopper, a member of the All-Continental League last season, to be a team leader this year.
"For this to be a successful season, I would like to see all four of our levels improve and see all of our teams at the top of the league standings," McClurg said.
Look for the Jaguars to make a run at the third round of this year's state tournament.
Wrestling

Another first for Rock Canyon sports happened last season when the school saw its first wrestling state placer in departed senior Alex Abreu. This season, now that coach Martin Castro has had a taste of state level success, he is looking for more.
"We want to take as many as we can to the state tournament this year and get as many state placers as possible," Castro said.
The team is looking for senior Gary Davis, a three-year letterman and two-time regional place winner to be a leader and be one of the many Castro hopes will get to state.
"This is our last year in Class 4A and we want to be successful at this year before moving to 5A next year," Castro said.
Boy's Soccer

One year after defeating the same team to win the 4A state championship, the Rock Canyon soccer team lost in it's title defense on November 11 at Dick's Sporting Goods Park to Niwot in overtime by a score of 1-0.
Last year, Rock Canyon won in a 3-0 blow out over Niwot. This year, Niwot's Santiago Velez scored the game winner in the 89th minute to enact revenge on the Jaguars.
"We had a shot," head coach Sean Henning told reporters after the game. "Unfortunately, we just couldn't close it out."
Rock Canyon finished the season 12-6-2, and narrowly missed a chance at repeating as state champions.
Girl's Sports

Swimming and girl's basketball will also begin competition this winter, with the swim team beginning their state title defense on December 1 with a meet at Regis High School.
The girl's basketball team begins their season on the same day with a game at Castleview.