The wait of a lifetime; meet kidney transplant recipient Galen Crowder
December 1, 2009
/
/
Comments Off

on The wait of a lifetime; meet kidney transplant recipient Galen Crowder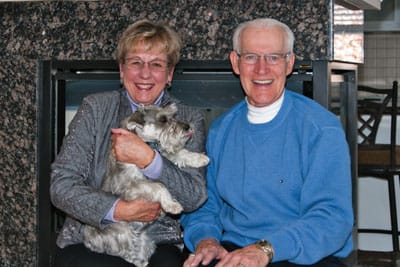 by Anthonettte Klinkerman with photo by Tim Gamble
Waiting is hard. Most people consider the time it takes to microwave a bag of popcorn to be an eternity, but what if you were waiting for a kidney transplant? Galen Crowder (pictured right with his wife Angie) had his patience pay off in a big way in August when he received the transplant he had been waiting for during the last three and a half years.
A Castle Pines North resident since 1997, Crowder recalls when there was nothing more than a gas station where the CPN business district is now. "Driving into Castle Rock or down to Lincoln to get groceries was just what you did," he chuckled.
For 32 years, Crowder was a middle school administrator who helped to open Laredo Middle School in Cherry Creek in 1975. He moved to Oakcreek just south of Steamboat Springs, but after three winters determined he should move back down to the Front Range.
Crowder married his now-bride, Angie, 15 years ago. Between the two they have a combined family of five children, eight grandchildren, and two great-grandchildren. He is celebrating the fact that he is getting stronger each day in order to enjoy such blessings as being a great-grandfather.
When the call Crowder and his family had been waiting for came in, there was not a great deal of surprise; just a lot of quick preparation. He had missed some previous opportunities due to being on a course of antibiotics for other illnesses.
"They [the doctors] break down your immune system so it won't reject the transplant," he explained. This meant he needed to be clean of other infections before they could operate.
Now Crowder is looking at a course of lifelong antibiotics to fool his immune system into accepting the donor kidney. He said that he has always been anti-pill up until now, not ingesting anything unnatural. "Now I'm up to 22 and a half pills a day," he laughed.
For six weeks following the transplant, he revisited St. Luke's for blood monitoring and adjustments to his medications. He knew of another patient awaiting a transplant as they both sat on the Metro Board at the same time, Tom Weldon. Crowder also pointed out that Carl and Sharon Kollmar's son received a kidney transplant years ago. The tight-knit community of CPN became even closer as he came to know others in the area that awaited their transplants.
Crowder is more than willing to share his knowledge of the process involved with a transplant operation, and though his voice sounded tired at the time of the interview, he stated that transplants would become more common if there were more donors.
On the books currently, is nationwide legislation to opt out of being a donor rather than opting in. Should this legislation pass, all patients on waiting lists would be able receive the transplants they await within a five-year time frame.
Proudly, Crowder will give you the magic number 1,181. That was his number at St. Luke's Hospital, indicating his place in the number of transplants performed at the hospital since 1985.
"Some weeks there may not be any transplants, and the day I went in there were four done in a 24 hour period," he reported.
The awe in his voice gave away Crowder's gratitude that he was given a second chance by another person choosing to become a donor. His family is, no doubt, grateful as well.