Concerned Residents form Commercial Development Committee Community-Wide Campaign Launched
March 1, 2005
/
/
Comments Off

on Concerned Residents form Commercial Development Committee Community-Wide Campaign Launched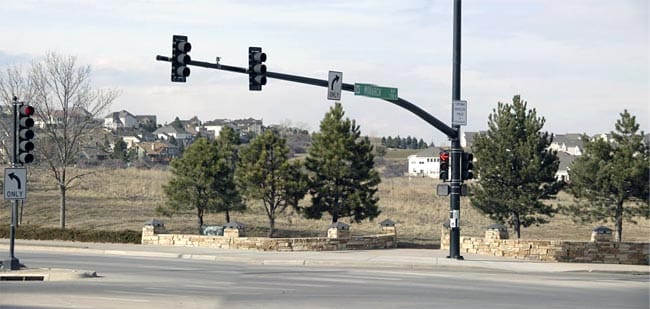 CC20 as seen from Monarch and Castle Pines Parkway
A group of local residents concerned about proposed commercial development plans at the corner of Castle Pines Parkway and Monarch Boulevard have formed a new committee.
Click here for more about the proposed commercial development project.
The Concerned Citizens for Redirecting Proposed Commercial Development Committee launched a community-wide campaign this month, to share concerns and gather opinions from homeowners.
The committee wants to "stop commercial development in the heart of CPN." The group is concerned that development projects on this land would decrease property values, increase traffic concerns; create safety issues and environmental concerns.
Various options are being explored by the committee, including a proposal to solicit the Castle Pines North Metro District to purchase the land for open space and/or a park.
The committee will be going door-to-door throughout the community with a survey and brochure. The committee will share all research data with the Castle Pines North Master Association, the Castle Pines North Metro District, and with Douglas County and Village Homes.
To view the committee's brochure, click here. (pdf 320k)
For More Information
To learn more about the Concerned Citizens Committee, or to volunteer your time, please contact:
Concerned Citizens Committee
Team Leaders: Alicia McCommons, Rick Dobbs, Tammy Gause, Rex Agler
Jonette Brown Eyes
E-mail: buycc20@cpnhoa.org
To sign up to receive e-mails from the Concerned Citizens Committee, please send your e-mail address to buycc20committee-request@cpnhoa.org.