Construction on I-25/Castle Pines Parkway Bridge to Begin Friday, May 21
May 1, 2004
/
/
Comments Off

on Construction on I-25/Castle Pines Parkway Bridge to Begin Friday, May 21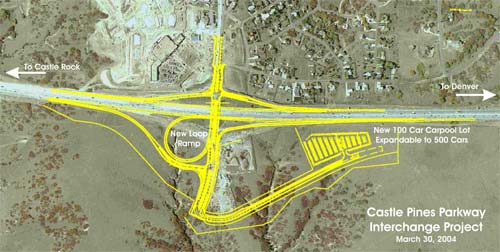 Construction on the I-25/Castle Pines Parkway Bridge, (exit 188) over I-25 will begin on Friday, May 21.
The contractor has posted signs stating that construction will begin on this day, and may give the impression that the entrance and exit to CPN will be closed.
The construction manager assures us that the Castle Pines Parkway Bridge will NOT be closed to traffic, however there will be lane closures during construction that may cause some delays.
On Thursday, May 20, workers will begin marking lane changes/merges on I-25. On the 21st, the bridge will be reduced to only one lane, and someone will be directing traffic via an alternation system. Drivers should expect short delays.
CPN's Community Garage Sale is scheduled to coincide with the first day of construction, however, rest-assured that shoppers from outside of CPN will still be able to access the area.
There is always a chance that construction will not actually start on its scheduled day, as delays often arise with large projects such as the replacement of a bridge. Therefore, if it seems that nothing is actually happening on the 21st, it will shortly thereafter. There is no work scheduled for Saturday the 22nd, but the bridge and I-25 will stay marked for construction.
The bridge is scheduled to be replaced with a multi-lane expanded one that will provide a new bridge over I-25 with two lanes eastbound, two lanes westbound, and a center turn lane. A loop ramp will be constructed in the southeast quadrant providing a direct movement from eastbound Castle Pines to northbound I-25, and the northbound off ramp to Castle Pines will be relocated to allow the loop ramp construction.
There may be brief times at night when I-25 will close at the intersection of Castle Pines Parkway. If so, closure will occur between the hours of 11:00 p.m. and 5:00 a.m. If and/or when this occurs, traffic will be funneled off and then back on the highway.