Couple takes pride in their family, company and community
June 1, 2017
/
/
Comments Off

on Couple takes pride in their family, company and community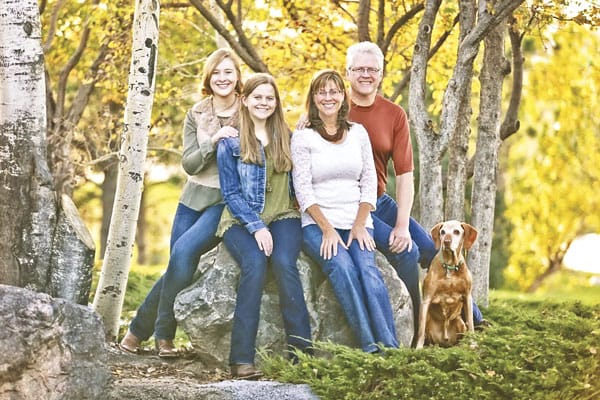 The Massman family (left to right) Gabrielle, Eliana, Catherine and Mike enjoy finding the balance in life and making sure family time takes priority.

By Nancy Koontz; photo courtesy of Catherine Massman
Castle Pines residents Mike and Catherine Massman, owners of Audio/Video Environments, Inc. (AVE), a custom electronics integration company, are busy parents who have enjoyed home-schooling their two daughters, Gabrielle and Eliana, along with building a successful business.
Mike earned a bachelor's degree in electrical engineering from Montana State University, and he had a successful career in the defense and aerospace industry, specializing in digital and analog system design, software development and system integration for complex computer control systems for 12 years. With Mike's passion for music, acoustics and electronics, he and his wife created AVE in 1993. Mike applies his expertise as an engineer and electronics aficionado to integrating electronics for homeowners, businesses and churches throughout Colorado and the United States. He continues to refine his skills through ongoing training within the industry and by continually researching technology.
Catherine was a computer science major from the University of New Mexico and spent 13 years as a programmer/analyst in the aerospace and business-applications industries then added three years as a corporate trainer before AVE was established. In addition, Catherine received her "CEDIA Outreach Instructor" designation in 2014, making her available to teach courses to the design and build industry for continuing education credits through their lunch and learn or breakfast briefing programs.
Knowing that finding "perfect balance" in life is difficult to achieve these days, Mike and Catherine believe that putting first-things-first and making sure family time is a priority is job one. The close-knit Massman family loves to go camping, hiking, hunting and be around fresh-water streams. They felt like they were on top of the world when they hiked to the top of the Devil's Head lookout tower, which was once used by the forest service. At that elevation, they were able to see where thousands of lady bugs hatch, which was a remarkable sight.
Daughter Gabrielle graduated last year after being home schooled. She swam on both the Rock Canyon High School varsity girls team and the Castle Rock Club swim team for seven years. Gabrielle now attends Union University in Tennessee. Youngest daughter, Eliana, plays the piano and plays violin for the Castle Rock Youth Symphony. Catherine and the girls like to follow the traditions of their previous matriarchs and spend time in the kitchen cooking family recipes. When asked what the key is to raising kind and responsible kids these days, Catherine said, "One thing I've learned is as much as you want to and should protect your children, you should also allow them to fail, so they learn to work through their hurts and learn to become strong enough to handle the hurt and deal with difficulties. They learn to be more compassionate with others who are going through tough times, so our children's challenges are great teaching opportunities for growth."
As business owners, the Massmans have provided their company services to the Parade of Homes for nine years. The company has won several professional awards and has been written up in various prestigious publications. They take pride in how well they communicate with their clients, representatives and employees, and Catherine said, "There is nothing more rewarding than having our clients happy with our work knowing we have made their lives a whole lot easier, especially when we can automate and program their homes. We give people ease of mind when they are traveling or are away from home."
Catherine describes Mike as a dependable husband and father with a great sense of humor who loves to play practical jokes just like his grandpa Skinner did. He is a man who is devoted to his family and the community. As a highly-regarded electrical engineer, Mike is interested in using his expertise to make life better for everyone.
The family describes Catherine as a devoted mom who is reliable, stable and creative and who loves a good challenge and holds everything together for the family. Catherine is fond of all people and is very wise, patient and humble.
The Massmans look forward to going that extra mile for their clients and just being relevant in life. There are no thoughts of retirement here – just a great level of anticipation and excitement for the time when their daughters get married and have children of their own. As far as the two of them, they plan on doing some traveling in the future.