CPN Resident Launches New e-Commerce Store
February 1, 2009
/
/
Comments Off

on CPN Resident Launches New e-Commerce Store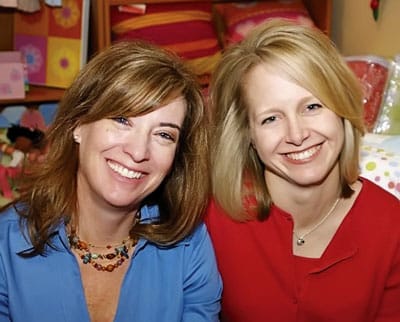 Juli Adams (left) and CPN resident Elean Gersack recently launched a new e-commerce store for Firefly Furnishings
(photo courtesy of Elean Gersack)
Firefly Furnishings, a distinctive children's furnishings boutique recently launched a new e-commerce store – www.fireflyfurnishings.com.
Last year, store owner and founder, Juli Adams, partnered with Castle Pines North resident Elean Gersack, to build the online store. Together, they created an online boutique full of designs and services currently offered at the award-winning store located in the Lowry Town Center in Denver.
The new web site is full of expertly designed nurseries, boys and girls rooms, as well as gift bundles for moms-to-be, babies, and children of all ages. All items are available for delivery across the United States.
Firefly Furnishings features the highest quality, bench-made and hand-made products made in the USA. Rooms and nurseries can be purchased as designed or by individual piece. "We have used our expertise to pull together unique fabrics, woods and accessories from the best manufacturers to create beautifully decorated rooms that will last a lifetime" said Adams.
Special gift bundles for expecting moms, babies and young children, such as "Baby Must Haves", "Sweet Dreams", "Rainy Day Fun", and "Moms on the Go!" offer a simple yet thoughtful approach to gift giving. "Our gift bundles are so sweet and fun – perfect for those who want to be extra creative and considerate for special occasions," said Gersack, marketing consultant and co-owner of Firefly Furnishings Online.
Other key features of the Firefly Furnishings online store include a baby gift registry and a design inspiration area. Expecting parents can create online
gift registries to share with friends and family via e-mail. And, parents looking for a little help getting started with a new room can view photos and read design tips via the Firefly Furnishings "Get Inspired" link.
"What sets our site apart is the passion and experience that has gone into room and gift designs that are expertly coordinated, and full of quality and uniqueness that will be treasured for years to come," said Adams.
Open since 2003, Firefly Furnishings offers distinctive children's furnishings and gifts for newborns through teens. Since then, the store has developed a tremendous and loyal client base and has received numerous awards, including – "Top of the Town" – 5280 Magazine (2004 and 2006), "Best of the Best – Best Children's Furniture Store" – Colorado Parent (2005), "Best Places for Families" – Kids' Pages (2007), and "Best of Denver/Kids & Family Fun" – Comcast On-Demand (2008).