Douglas County Divas' first anniversary a smash
February 1, 2011
/
/
Comments Off

on Douglas County Divas' first anniversary a smash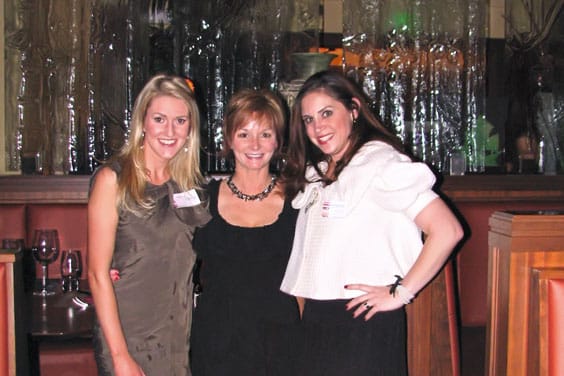 Douglas County Divas members socialize at the dessert table in Zi Fusion Restaurant. Pictured left to right: Co-Founder Theresa Buckley, Founder Pamela Anderson, and Marketing Director Kathlena Gill.
Article and photo by Elizabeth Wood West

More than 300 smartly-dressed businesswomen sipped cocktails, nibbled appetizers, and swapped business cards and conversation at Douglas County Divas' (Divas) first anniversary celebration. Zi Fusion Restaurant, located at 7460 S. Clinton in Englewood, hosted the standing-room-only crowd. Enthusiastic Divas members were treated to gift bags upon their arrival, and several members won giveaways donated by various sponsors and supporters of the one-year old women's networking group.
Divas' founder Pamela Anderson and co-founder/daughter Theresa Buckley began the free networking group in January 2010 as a way for women business owners to make social and business contacts in a fun and supportive environment. Anderson said, "We want to be a resource for women in all businesses [where they could] market themselves and to generate a positive atmosphere for them to grow their network and net worth." Anderson refers to Divas as a labor of love and believes it is a way for women to help each other in a struggling economy.
A quick glance at the Diva directory shows that dozens of different kinds of businesses are represented by Divas members, including photographers, hair and makeup stylists, caterers, graphic artists, mas
sage therapists, insurance agents, as well as multi-level marketing work-from-home businesses.
In addition to the monthly networking gatherings, some members attend socials – smaller meetings that offer more one-on-one discussions. Divas members are able to post their businesses in the Divas directory, advertise on the website, and receive discounts offered by other Divas members.
In addition to promoting Divas, Anderson and Buckley are part of the Girls-Gone-Green team, a national environmentally-friendly cleaning products sales organization that offers work-from-home business opportunities to women. Anderson's and Buckley's 2011 goals include the "Support a Diva" campaign (support local women-owned businesses instead of big box stores) and to continue hosting their monthly meetings at new and exciting venues.
Douglas County Divas meets on the third Tuesday of each month at a new location in the Douglas County area. For information about upcoming meetings, please visit www.divasconnect.com. Pamela Anderson can be reached at 303-596-8075 or e-mail. Theresa Buckley can be reached at 720-280-2910.