December 1, 2016
/
/
Comments Off

on Easy prep holiday fun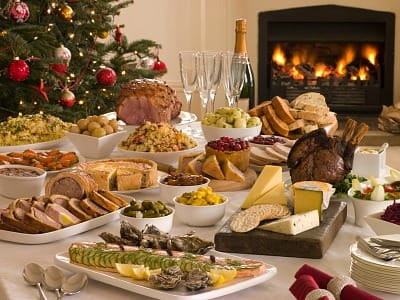 By Lisa Crockett
This time of year is a natural for gathering friends together to celebrate. Giving the gift of yourself and the gift of time together is often better than any other present you might be able to come up with.
Sometimes though, the prospect of preparing the house, assembling the food and then cleaning up is enough to turn even the most social among us into, well, a Grinch. Hiring a caterer can be tricky (and expensive) this time of year, and if you are looking to share your own personal style and taste, it is better to do at least some of the work yourself. But holiday fun should be fun for everyone, including the person hosting.
So, here are some strategies for bringing people together without sending yourself into a downward spiral. Cheers!

Strategy #1: Keep it simple
Host an open house with finger foods, served buffet style. This allows you to invite a larger number of guests than you could for a sit-down dinner. Bonus points for using festive, disposable plates and flatware.
Focus on two or three items in each party "category." A few choices, offered in ample quantity, create a streamlined and sleek effect at a party: serve just one or two signature drinks or a single, festive holiday punch (along with pitchers of ice water), two or three savory treats and one or two sweets. If you are serving a show-stopper dessert of some sort (like a yule log or seven-layer chocolate cake) stick with just one.
Serve tried-and-true food at your holiday gathering. Save experimentation and exotic new dishes for a time in the year when you can afford to have a flop in the kitchen, not when you're expecting 20 guests within the hour. Don't be afraid to serve simple snacks – even a grilled cheese sandwich or quesadilla can put on its party clothes with a schmear of apple butter or mango chutney. Serve it on a festive plate cut into bite-sized pieces and voilà! Delicious.

Strategy #2: Outsource some of the work
Grab some party-ready fare at the store. Tony's Market has fantastic treats in the freezer and the bakery case. Costco, Sam's Club and King Soopers are also great caterers.
Start with a store-bought base and dress it up at home. Puff pastry and pie crust from the refrigerator section at the grocery store are inexpensive, tasty palettes for sweet and savory fillings alike. Stuff a Costco dinner roll with homemade chicken salad or cheese spread.
Engage in a little sleight-of-hand. Buy a large holiday pie and cut it into two-bite rounds with a biscuit cutter (works best with custard or cream pies), or gently warm pre-cooked meatballs or cured meat (think ham and roast beef) and dress up with your favorite homemade glaze or dipping sauce.

Strategy #3: Plan ahead
Think about heat. Party time can mean a crowded oven. Decide what can be made ahead and served cold or at room temperature. A slow cooker can also provide continuous warmth for soup or cheese-based dips.
Set out tables and chairs the night before the party. Confirm you have adequate seating and that table linens are clean and pressed.
Get ice. You'll always need more than you think.

Strategy #4: Enjoy!
Remember that as much as people enjoy tasty food, they're coming to your party to spend time with you. Get ready, put your best
foot forward and then let the rest go.