Elementary school girls have a 'ball' at daddy-daughter dance
March 1, 2011
/
/
Comments Off

on Elementary school girls have a 'ball' at daddy-daughter dance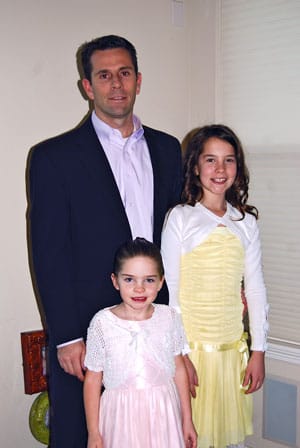 Lia Halvas, age 10 (right) attended Timber Trail Elementary's annual daddy-daughter dance, the Snowball, with her sister
Kate, age 5 and her dad, Rich
.

By Lisa Crockett, courtesy photo

The Timber Trail Education Association (TTEA) hosted an evening of dancing and fun for girls who go to Timber Trail Elementary and their dads. The event, which was called the Snowball, has become an annual tradition for dads and daughters to get dressed up, socialize with friends, and raise money for the TTEA. Roughly 360 people attended.
"The girls were adorable – all dressed up and dancing," said Susan Pfeiffer, who co-chaired the event with fellow TTEA member Shannon Hassler. "We did raise about $4,500 for the TTEA, but the focus on this activity is for it to be a 'fun' raiser, rather than a fund raiser."
Girls danced to music provided by DJ Michael Howell (DenverDJDaddy.com) and enjoyed cupcakes and raffle prizes, including a much-desired American Girl Doll.
"It was nice to see Dads getting to know each other, they get to know their kids' friends and their dads, which helps create a feeling of community at our school," said Pfeiffer.
The TTEA partnered with local eateries including Duke's Steakhouse, The Ridge and La Dolce Vita, to offer discounts on local dining before the dance. The event was sponsored by Brandon Linn Orthodontics, Pediatric Care Now and Canyon Ridge Chiropractic.
"It was fun to get dressed up and go to the dance with my dad," said ten-year-old Lia Halvas who attended the dance with her dad, Rich and her younger sister, Kate. "It was something sort of special because it was just me, my dad and my sister