Emergency Responder Service Dogs provide vital support and companionship
November 1, 2019
/
/
Comments Off

on Emergency Responder Service Dogs provide vital support and companionship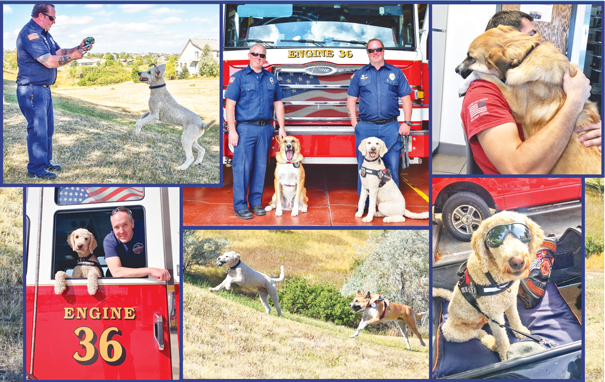 Two amazing canines have joined the force at South Metro Fire Rescue. Dedicated to supporting the first responders, Emergency Responder Service Dogs Molson and Champ bring positive energy into the daily lives of their firehouse family.

Article and photos by Lynn Zahorik; photos courtesy of South Metro Fire Rescue
There is a new member of the family at South Metro Fire Rescue (SMFR) Station 36 in Castle Pines. He is a handsome golden doodle named Champ who is one of two Emergency Responder Service Dogs (ERSD) recently added to the SMFR Peer Support Team (PST).
Initiated in 2012, the 30 member strong peer support group provides SMFR employees and their families the opportunity to receive emotional, tangible and confidential support through tough times of personal and professional crises.
Post Traumatic Stress Disorder is a common challenge, and sadly, more first responders die from suicide than in the line of duty. In 2018, SMFR initiated an exploratory ERSD program to augment the PST with the deployment of Molson, a Saint Bernard mix, in the care of his handler, paramedic JP Piche of Station 46 in Parker. Because of the great response from the line and staff, SMFR was able to bring on their second ERSD this year, deploying Champ with his handler, engineer Jarrod Wildman to Station 36.
Champ and Molson's job is to provide an immediate opportunity for stress reduction in our local emergency responders. Both dogs were trained by Mountain High Service Dogs in Larkspur for approximately 18 months to address SMFR's needs. They were chosen for their unique temperament and their ability to please and comfort their handlers. The nonverbal and subtle connection that is created between ERSD and responder is a unique experience that cannot be substituted by other means. This connection allows the responder to decompress without having to verbally share in an environment that inhibits expression. There is often an unfortunate shame and stigma surrounding mental health within professions that celebrate bravery and toughness.
True employees of SMFR, Champ and Molson took their oath of office and received their badges this summer. Dressed in service vests, the canines work 48 hour shifts with their fire house team and live with their handlers on their days off. Champ and Molson give out hugs, nudge responders for a good petting, and roam the room to locate someone in need.
"The dogs are a constant source of comfort throughout the day, helping our first responders release their feelings," said Jarrod Wildman, Champs' handler. "They want you to be in a state of neutral balance. In their presence our stress travels down the leash." Outside of the firehouse duties, the ERSDs and handlers deploy to emergency scenes and visit SMFR stations and administration. When they finally go home, Champ and Molson are tired from their long days of working to relieve the stress of their team.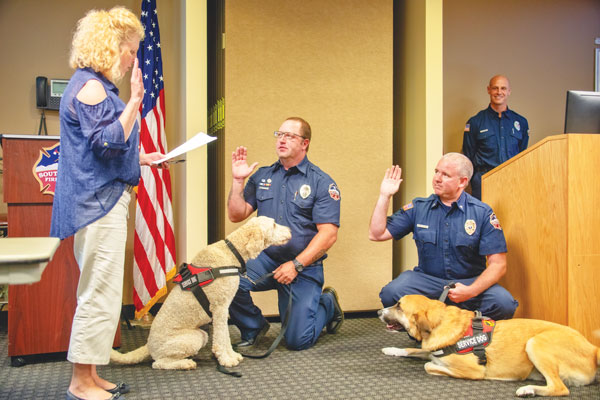 Champ and Molson were officially sworn in as the first two employees of the South Metro Fire Rescue Emergency Responder Service Dog program. They wear their CANINE badges with pride on their service vests.

When off the clock, Champ and Molson are high-spirited, carefree, ball playing, people-loving dogs. Their tails wag with pleasure as they accompany their families in their everyday lives. You can't help but smile doubly large when you meet them, knowing the unconditional love and support that they offer our first responders.
The SMFR PST is optimistic that the ERSD program will expand to provide coverage to all three shifts and administration by the end of 2020. The program, which is helping to change the culture among first responders and mental health, has received the attention of many fire departments across the country that are interested in implementing a similar program within their districts.
For more information about SMFR, visit www.southmetro.org or @southmetrofirerescue.