En garde! Rachel and Kirsten Buhay – nationally-ranked fencers
August 1, 2018
/
/
Comments Off

on En garde! Rachel and Kirsten Buhay – nationally-ranked fencers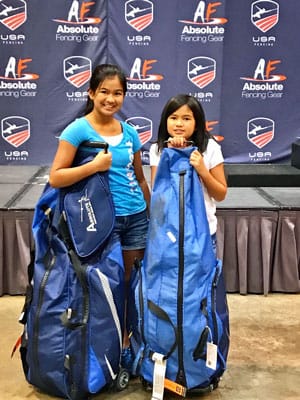 In early July, Rachel and Kirsten Buhay competed at the fencing National Championships in St. Louis, Missouri. Rachel, 13 years old, has competed nationally for four years. Two years ago, she took fifth place and a bronze medal in Y10 at nationals. Ten-year-old Kirsten has competed nationally for two years.
By Susan Helton; photos courtesy of Rene and Tina Buhay
Starting with "The Princess Bride" and when younger, "Barbie and the Three Musketeers," Castle Pines Village residents Rachel and Kirsten Buhay loved fencing. "I like that fencing's a challenge, that I get to finally beat the boys! It inspires me to get better, to do better," stated Kirsten.
Rachel has been training five years and Kirsten three. They compete locally (Denver), regionally, and at the National Championships in July, the season's last tournament.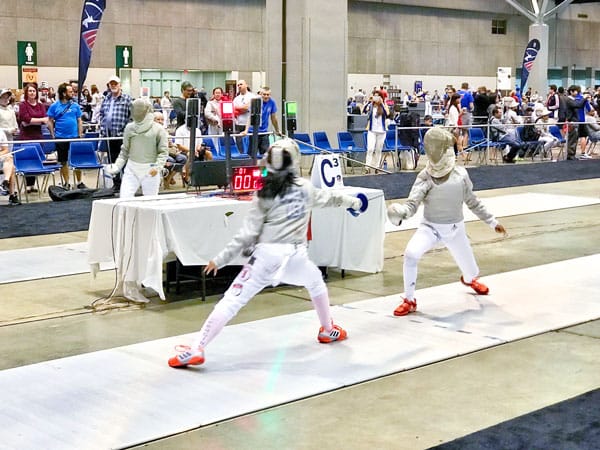 Rachel on the attack, the initial offensive action threatening the opponent's target.
At nationals this year, Rachel competed in Y12 and Y14 Women's Saber and Kirsten in Y10 Women's Saber. In preliminary rounds (pool rounds), fencers face each opponent in their group to determine seeding, placing fencers with the most wins at the top. Direct elimination (DE) follows, with a win meaning advancement, a loss meaning the fencer is done for the competition.
In Y12, Rachel won five of her six bouts in pools. She started DE with two decisive wins but lost a close bout to the number eight nationally-ranked girl. Rachel finished 19 of 117 finalists. In Y14, Rachel won five of her six bouts in pools, finishing number 18. She earned a bye, won her first DE bout, then was upset in the next round and finished 36 of 163 finalists. Rachel is ranked number one regionally (Region 4: Colorado, Nevada, New Mexico and California) and, with this strong performance, number 21 nationally in Y12 Women's Saber.
In Y10, Kirsten won two bouts in pools, finishing number 35. She won her first DE bout against the number 29 seed, then lost to the number one seed. Kirsten finished 29 of 55 finalists. She is ranked number seven regionally (Region 4) and number 38 nationally in Y10 Women's Saber.
"Fencing's an intellectually and physically challenging sport," stated Rachel. "That's what's so fun. You have to be in shape and fencing requires you to think. It's like chess…and there's an unbelievable amount of strategies. I love fencing because of the challenge and of how unique the sport is. Being nationally ranked…it's a bit stressful, but it's super exciting. Stressful because it's hard competing with friends and making sure that you stay ranked. Yet another reason I love fencing. My competitive side loves going to national tournaments and fencing with some of the best fencers in the country."
Kirsten and Rachel train at Fencing Academy of Denver with coaches Tom Strzalkowski and Elliot Clinton. Strzalkowski was a member of the 1996 U.S. Olympic Fencing Team. An alternate to the 2000 U.S. Olympic Team, Clinton is the girls' primary coach and also teaches the after-school fencing program at American Academy, Castle Pines, where Rachel is an incoming eighth-grader and Kirsten an incoming fifth-grader.
Rene and Tina Buhay, the girls' parents, are very proud of them. "Both worked so hard during the year to train and qualify for this event. This is the result of lots of hard work, discipline, perseverance and commitment to the sport they love," stated Rene.
To learn more about fencing, visit www.usafencing.org.