Fire hydrant flags – Why are they there?
October 1, 2009
/
/
Comments Off

on Fire hydrant flags – Why are they there?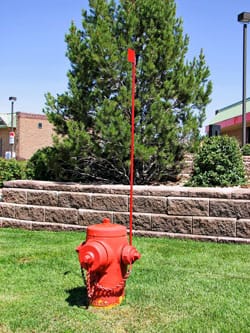 by Terri Wiebold
Residents who have been wondering why there are tall metal flags attached to the 485 fire hydrants in Castle Pines North (CPN) need ponder no more.
According to CPN Metro District Parks and Open Space Manager, Charlie Fagan, the answer is as simple as the solution was.
In recent winters, snow levels were so high that Douglas County snowplow crews and South Metro Fire Rescue personnel were not able to identify where hydrants were located in the community.
"This causes some obvious safety concerns," said Fagan. "At one point we actually had to put a snow blower on the front of one of our Bobcats to clear the snow away from the hydrants," he said.
Fagan's crews posted flags at each hydrant to help more easily identify them. According to Fagan, the flags will remain a permanent fixture on the hydrants year-round.
"Not only are the flags instrumental in identifying hydrants in the winter snow, they helped in the summer with the tall ornamental grasses as well," he said.
As Castle Pines North welcomes fall, and in anticipation of another white Colorado winter, residents are encouraged to contact the Metro District at 303-242-3266 to report any hydrants with missing or damaged flags.