Fire season = evacuation plan
August 1, 2020
/
/
Comments Off

on Fire season = evacuation plan
By Celeste McNeil; photo courtesy of South Metro Fire Rescue
Hot dry Colorado summers often lead to wildfires. Many longtime Castle Pines residents remember the Cherokee Ranch Fire that burned 1,200 acres in October 2003. Thousands of Castle Pines residents were evacuated as flames raced toward homes and smoke billowed. The fire was extinguished the next day, with no loss of homes, due to heroic efforts of several fire and county agencies and a cold, wet spell from Mother Nature. Residents profusely thanked firefighters with food, goodies, cards, posters and banners.
My husband and I moved to Castle Pines a year after the Cherokee Ranch Fire. I remember hearing about the close call and evacuations from new friends and neighbors. Thoughts of evacuation again filled my mind when a few years later another fire had residents on edge. I watched the news and wondered if I could gather everything I needed and still manage a quick evacuation with my small children.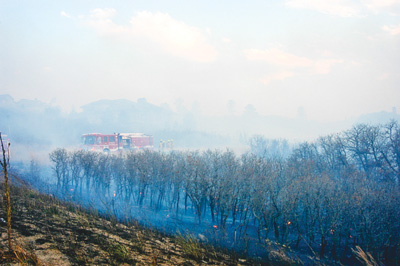 Being prepared reduces stress and brings peace of mind. Having a family emergency plan in place is helpful; so is knowing where the important documents can be found. Keep photo copies of significant paperwork like driver's licenses, passports, house deed, proof of insurance (medical, home, auto), medical records, social security cards, financial and tax records, legal documents, birth certificates, and a list of personal contacts and online passwords, in a safe place, but easily accessible if you need to evacuate. Also having an emergency kit with medications, clothes, flashlight, batteries, basic first aid supplies, water, and food (including necessary pet supplies) ready to go will eliminate strain if you need to leave in a hurry.
Many neighborhood HOAs, as well asSouth Metro Fire Rescue, have emergency and evacuation plans with more information to help residents prepare. FEMA and the American Red Cross have recommendations for emergency kits.
Consider taking a photo inventory of the household items for insurance and storing it offsite. Every couple of years my husband wanders around our house taking pictures of everything. We have an external hard drive filled with digital copies of family photos and a current photo inventory of our possessions. These items stay at my husband's office. Friends, family or a safe deposit box are equally good places to keep extra copies of important or irreplaceable personal information.
Last month's Chatridge 2 Fire near Highlands Ranch, which evacuated the BackCountry neighborhood is a reminder that fires and evacuations are a part of living in dry Colorado. To learn more about emergency notification procedures, see related article about CodeRED on page 6 or visit www.douglascountycodered.com.