Fire up to fill the boot for the Muscular Dystrophy Association
September 1, 2016
/
/
Comments Off

on Fire up to fill the boot for the Muscular Dystrophy Association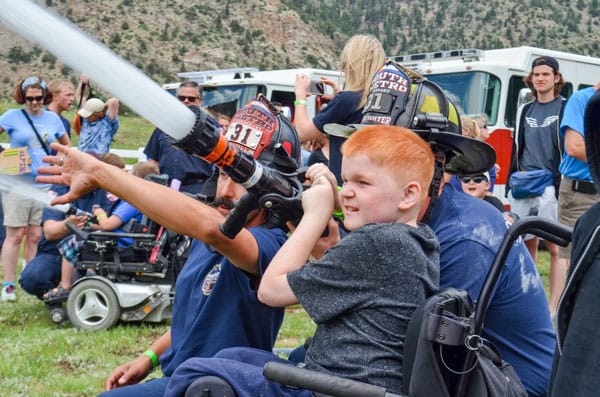 MDA summer camp gives kids with limited muscle strength and mobility a life changing experience in an environment without barriers.


By Lynn Zahorik; photos courtesy of MDA Rocky Mountain
As we escort in the month of September, we are greeted by the annual International Association of Fire Fighters (IAFF) and Muscular Dystrophy Association's (MDA) spirited Fill the Boot campaign that occurs each Labor Day weekend.
IAFF's support for MDA began in 1954 when the organization committed to aid MDA until a cure was found. They are the largest national partner of the MDA. IAFF is pledged to saving lives, both as firefighters and paramedics and as the strongest campaigners for the worldwide research efforts of MDA to eradicate 40 neuromuscular diseases.
Our South Metro firefighters will fan out across the county with boots in hand for this year's drive the first weekend of September. The fire fighters from Station 36 will be collecting donations for MDA at the Castle Pines King Soopers and the intersection of Castle Pines Parkway and Debbie Lane. Station 39 fire fighters will have a collection post at the Happy Canyon/Highway 85 intersection.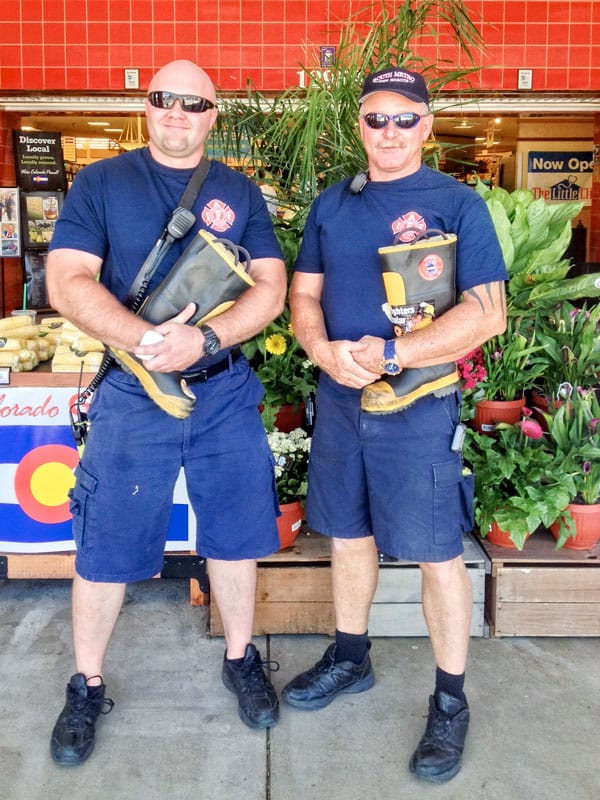 South Metro fire fighters will be collecting donations at Castle Pines King Soopers during Labor Day weekend.
Firefighters across America are passionate about their partnership with MDA. When asked why South Metro Fire Rescue participates in the annual MDA fundraising event, Station 39 Lieutenant Taylor Stephens said, "It's part of who we are and why we're firefighters. We serve the public."
Funds raised help MDA's effort to fund groundbreaking research and life-enhancing programs such as state-of-the-art support groups and care centers, including the MDA Care Center at Children's Hospital Colorado and University of Colorado Hospital in Aurora and Colorado Springs. They also help send more than 90 local kids to "the best week of the year" at MDA summer camp in Rocky Mountain Village in Empire at no cost to their families.
South Metro Fire Rescue's Fill the Boot drive raised $108,000 in 2015. Our dedicated fire fighters are determined to raise the bar this year to top that total. Be sure to keep a look out for a boot to fill to support MDA.
For more information or to make a donation, visit MDA.org.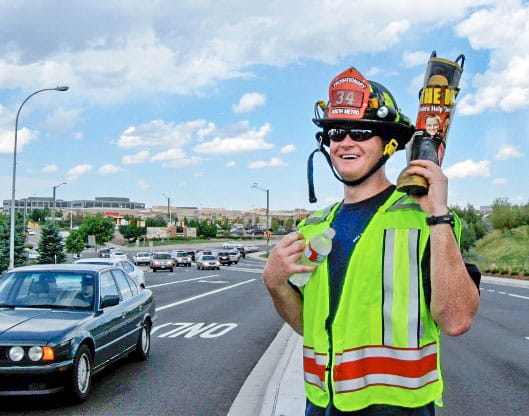 Motorists receive a wave and a smile as firefighters work to collect donations for MDA.