Get Ready! The Master Association's Community Garage Sale Is Friday and Saturday, May 19 and 20
May 1, 2006
/
/
Comments Off

on Get Ready! The Master Association's Community Garage Sale Is Friday and Saturday, May 19 and 20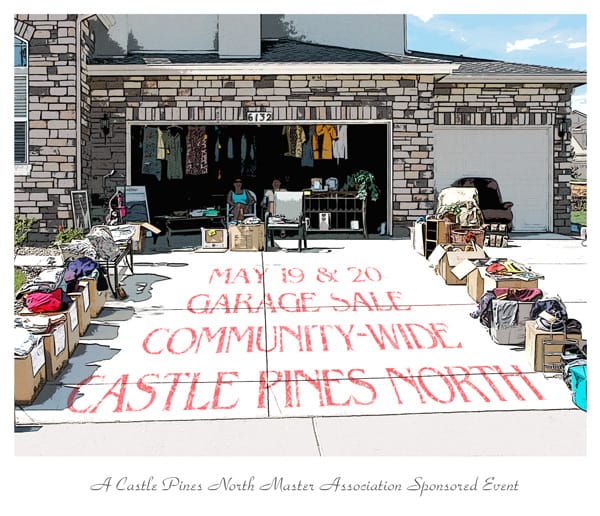 by Elean Gersack
Friday and Saturday, May 19 and 20, traffic on local streets will be bustling as folks from far and wide visit Castle Pines North (CPN) in hopes of finding some good deals. The Master Association will advertise this huge garage sale within Denver and Douglas County newspapers and the CPN website will help buyers plan their routes. "The website offers sellers the opportunity to list specific items or categories so that buyers know where to go," said Carla Kenny, CPN Master Association Event Planner.
Residents wishing to participate in the garage sale can register through Thursday, May 18. "There is still time to register sales, but folks should do it soon as people looking to buy will likely print sale listing sheets several days prior to the event. It's so easy – you just enter your address, neighborhood and a listing of items you plan to sell. Then, we do the rest," said Kenny. For those in the community anxious to find a treasure or two, all sale listings can be viewed and printed prior to shopping.
CPN residents participating in the garage sale may wish to post signs throughout the community for added exposure. Signs can be posted starting on Friday morning and should be removed by Saturday evening.
Since our community will have extra visitors during this two day period, please remember to be extra cautious.
Watch for extra traffic and take care when crossing streets
Make sure doors and ground-level windows are closed and locked
Make sure your garage is closed, unless you are using it for your sale
Do not keep much cash outside. Keep money on you rather than in a box
If you leave a car outside, keep it locked and remove all valuables or put them out of site
For more information about the garage sale, please contact Carla Kenny at social@cpnhoa.org or 303-482-3078 x 131.