Get the dirt on the latest, greatest fitness craze
November 1, 2011
/
/
Comments Off

on Get the dirt on the latest, greatest fitness craze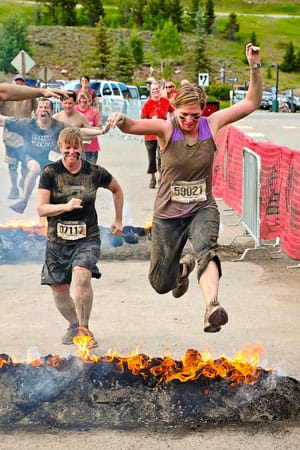 Castle Pines Connection staff writer Lisa Crockett (right) sets the pace by leaping flames in the Warrior Dash at Copper Mountain Resort in August.
by Tricia Wackerly with photos provided by Kristi Lindquist and Lisa Crockett
Races with extreme obstacles attached; harsh, tough, push you to your limit type races. These extreme "mud" races are popping up in cities across the nation. So is this a fad or is it a trend that is here to stay?
Now, not all are created equal. Some have costumes involved; some involve beer – well, most involve beer, actually, as well as live music during the race or at the finish line; some are more serious and recommend intense training and preparation; but all tend to require a shower afterward.
So that you may decide for yourself if you are a "mudder," we have compiled a list of some of the most popular and unique mud races with descriptions in the words of those who sponsor the races
The Muddy Buddy –
A crazy twist on a triathlon, the Boulder Muddy Buddy winds its way through the beautiful backdrop of the Boulder Reservoir. This two-person team bike race and run includes several "obstacles" to conquer before the final stretch where buddies must "swim" in the infamous mud pit! Don't forget to smile on your way through the pit as we will be capturing your muddy moment on camera! Go to http://muddy-buddy.competitor.com/.
Tough Mudder –
"Tough Mudder is not your average lame mud run or spirit-crushing 'endurance' road race. Our 10-12 mile obstacle courses (miles of hills, mud, water, ropes, walls, electric shocks, and of course, fire) are designed by British Special Forces to test all around strength, stamina, mental grit, and camaraderie. Forget finish times. Simply completing a Tough Mudder is a badge of honor". One benefit to the Tough Mudder is that it has raised more than a million dollars for the Wounded Warrior Project from proceeds of their events. Go to www.toughmudder.com.
Warrior Dash –
"The Warrior Dash, a mud-crawling, fire-leaping, extreme 5K run from hell. Warriors conquer extreme obstacles and push their limits. This fierce running series is held on the most challenging and rugged terrain across the globe." Go to www.warriordash.com.
The Devil Dash –
"The Devil Dash is an adventurous 5K running race. Racers will ascend the "Purgatory" course and conquer obstacles themed after the 7 Deadly Sins, before entering the pearly gates and the "Avery Brewing Beer Garden of Eden."
Obstacles include climbing cargo nets, running through a river, crawling through mud pits, darting through fire and trudging up steep terrain and more. Devil Dash is an all day running event, complete with mud, blood, beer, cheer and live music." Go to www.devildash.com.
The Spartan Series –
These guys are not messing around. They have races for all levels of mud runners, starting with the Spartan Sprint, a muddy 3+ mile event with 10 or more obstacles. Then there is the Super Spartan, an 8+ mile battlefield of insane mud running with 15+ obstacles to test your physical strength and mental resolve. Next is the Spartan Beast, a 10-12 mile Obstacle Race.
Last but certainly not least, the Spartan Death Race – the highest level of the Spartan Challenge. "The Spartan Death Race is designed to present you with the totally unexpected, and the totally insane! This endurance race is comprised of mud runs, obstacle racing, trail racing, physical challenges and mental challenges all in a +48 hour adventure race.
Ninety percent will not complete this endurance race. Please only consider this adventure style race if you have lived a full life to date. We highly suggest you come to a Death Race Camp before attempting this race. Death sounds cool until you're dead." Go to www.spartanrace.com and www.youmaydie.com.
If you have done any race anywhere in the world, whether a mud run, fun run, Olympic run, bike race, death march or any kind of event claiming to be the "toughest race on the planet," you will be happy to know that this is where it ends.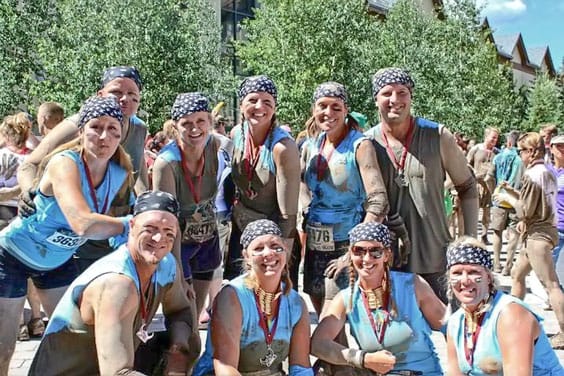 Tough Mudder participants; back row left to right: Kristen & Paul Brown (Hidden Point), Lynn Honderd (CPV), Dawn Timlin (Hidden Point), and Kristi &David Lindquist (King's Crossing). Front row left to right: Mike Timlin (Hidden Point), Tonya Brady (CPN), Robyn Meyers (Hidden Point), and Jenny Drinkwine (CPN).