Global Leaders and Learners travel to Prague and Berlin
August 1, 2016
/
/
Comments Off

on Global Leaders and Learners travel to Prague and Berlin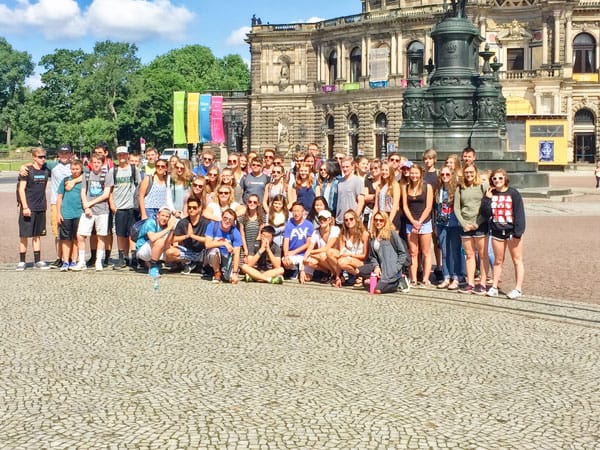 The Global Leaders and Learners group in Dresden, Germany on their way to Berlin. The group studied the human rights of democracy while traveling.

By Lisa Nicklanovich; photos courtesy of Kate Hartline
Roughly 60 Douglas County students and chaperones travelled to Prague, Czech Republic and Berlin, Germany for ten days in June to focus on the human rights of democracy. The group, Global Leaders and Learners (GLL), included nine students from Rock Canyon High School (RCHS) and 11 students from Castle View High School (CVHS) and was facilitated by the educational tour company, Education First.
The trip included a summit on design thinking, which focuses on the problem solving process and exploration of famous landmarks where there had been a journey to freedom. In Prague, GLL attended a seminar from Free Radio Europe, and in Berlin they visited what remains of the Berlin Wall. Ann Gibson, RCHS junior and CPV resident said, "The highlights of the trip for me were the Prague Castle and St. Vitus Cathedral in Prague. In Berlin, we got to walk right up to the Berlin Wall and see the perspective from both the East and West sides as well as hear what life was like at the time for people on both sides."
GLL took a Syrian refugee walking tour and heard from a refugee who came to Berlin. In Amsterdam, they went to the Anne Frank House where Gibson said, "it was the first museum I have ever gone to that I actually read everything!" The Humanity House in the Hague was also a highlight for Gibson who added, "my favorite part was getting randomly put into groups of people from all over the world who I would never have met had I not gone on the trip."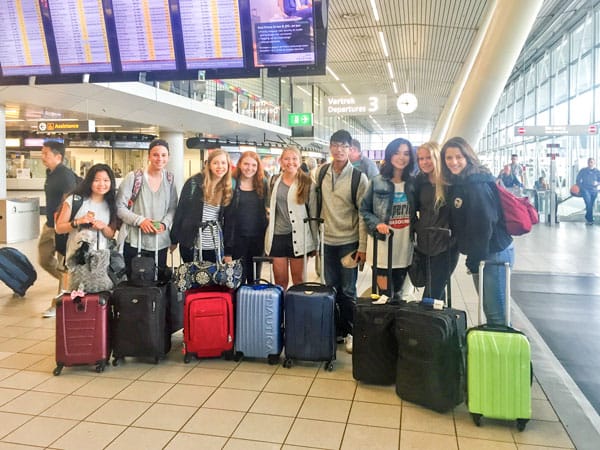 The nine Rock Canyon High School students after their 11 day trip to Prague and Berlin, departing from the Amsterdam Airport. Pictured left to right: Avery Kane (CP), Claire Noyes, Katelyn Stolley, Ann Gibson (CP), Mikayla Devin (CP), Eric Zhang, Hana Kanazu, Lauren Spindler, and Hailey Mosteller (CP).

Kate Hartline, social studies department chair and student council advisor at RCHS, chaperoned the trip and said, "I have studied and taught about these cities and countries and their struggles, but I was surprised by the magnitude and power of actually standing in a place and seeing things first-hand versus reading about it in a book. It was especially powerful being with students.
Next year's trip theme is the history of food and GLL will travel to Italy and Greece in late June. For more information about the GLL program at RCHS, visit http://bit.ly/rchsgll or contact Hartline at katherine.Hartline@dcsdk12.org. For more information on the GLL program at CVHS, contact Joel Justice at joel.justice@dcsdk12.org.