Haunted history close to home
October 1, 2013
/
/
Comments Off

on Haunted history close to home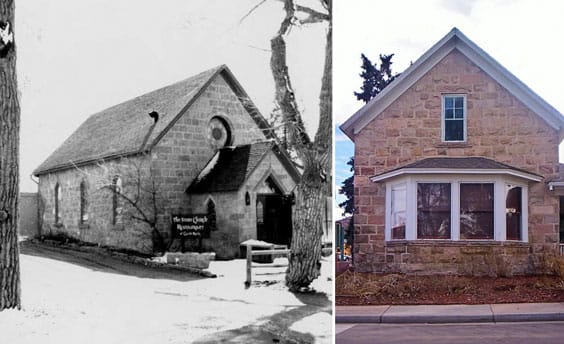 Left – The Old Stone Church, 210 Third Street in Castle Rock. Right – Castle Rock Chamber of Commerce, 420 Jerry Street

By Elizabeth Wood West; photos courtesy of Douglas County History Research Center
As Halloween draws near, ghost stories are as much a must-have as carved pumpkins and spooky decorations. Ghost stories are even better when they are tied to well-known places in the community.
Douglas County Libraries (DCL) History Research Center has an extensive collection of historic photos, documents, and ghost stories dating from the early pioneer days to present. DCL archivist Shaun Boyd is the official in-house ghost story expert and is happy to share them with history buffs and ghost story fans. Here are a few local spots and their rumored haunted history, according to Boyd:
The Old Stone Church, now a restaurant located at 210 Third Street in Castle Rock, was the original location of St. Francis of Assisi Catholic Church. The church later moved to its current location on Highway 86, east of Castle Rock. The charming rhyolite structure was built in 1888 and has three windows on the side, a vestibule, choir loft, and a rose window over the door. Reports from the restaurant's staff include seeing a woman in black lighting candles, crashing sounds of pots and pans, and the sighting of a little girl with an axe in her head.
The Castle Rock Chamber of Commerce is headquartered at 420 Jerry Street in Castle Rock, in a lovely two-story house with a large bay window. The house was built in 1889 and was home to Thorwald and Victoria Christensen. Cabinet doors opening, snoring, the sounds of angry bees, and telephones ringing – with no one on the line – have been reported by staff.
Douglas County School District's Cantril School, located at 312 Cantril Street, between Third and Fourth Streets in Castle Rock, was Castle Rock's first high school. Built in 1896, the two-story school building features double-hung windows with transom lights and a four-sided arched bell tower. Some have reported hearing footsteps; others have found books knocked off shelves, sitting upright, bearing titles pertaining to recent topics of conversation; and some claim they have seen Matilda, a gray lady that walks upstairs to the bell tower.
The Castle Pines Golf Club, located at 6400 Country Club Drive in Castle Pines Village, opened its Jack Nicklaus-designed 18-hole golf course for play in 1981. This private golf community is surrounded by tall pines and unique geological elements – and may have had ghost visitors. There is a report of the golf cottage cleaning staff noticing sinks turning on randomly and emitting the smell of rotten eggs, and glasses and sheets being inexplicably moved.
For further information, contact Shaun Boyd at 303-688-7732 or email sboyd@dclibraries.org.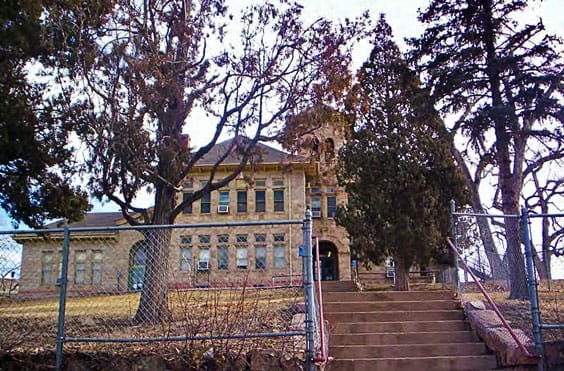 Cantril School, 312 Cantril Street in Castle Rock.