Highschoolers re-learn the "ABCs" to help a friend
May 1, 2011
/
/
Comments Off

on Highschoolers re-learn the "ABCs" to help a friend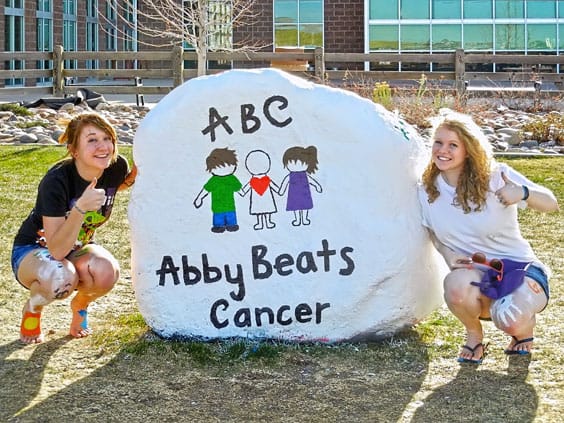 Rock Canyon High School (RCHS) students Jenna Valenziano (left) and Brooke Boles (right) painted the "Rock" at RCHS with the ABC logo Boles designed for fellow classmate Abby Fast. The Rock reminded students of a multi-faceted fundraiser which raised money for Fast, who is fighting cancer.

By Lisa Crockett
When Castle Pines teens Maddie Whitten, Sierra Merrill, Quinn Kennedy and Brooke Boyles were grade schoolers, they learned the alphabet. Since then, they've learned a lot.
All four of the girls are sophomores at Rock Canyon High School, and each day they tackle tough subjects like algebra, chemistry and advanced English. But when they learned that friend and fellow classmate Abby Fast had a rare kind of cancer called Epithelial Sarcoma, they went back to basics to help her. The girls organized a series of fundraising events to help Abby's family with medical costs and to show their support while she fights her disease.
With the help of Rock Canyon teachers Elizabeth Harris and Kate Hartline, the girls planned the ABC campaign – the letters stand for "Abby Beats Cancer." Initially, the girls planned to simply sell t-shirts and buttons to other Rock Canyon students to raise money, but soon other events were incorporated which allowed the local community to get involved.
"Brooke came up with the artwork and the logo," said Maddie. "Quinn was really good at organizing and Sierra contacted local businesses for help. I was kind of all over the place, helping wherever I could."
To launch the project, the girls painted the Rock Canyon "Rock" with Brooke's logo. T-shirt and button sales began in early April and restaurants near the school donated a portion of their sales to Rock Canyon students on designated days. Chick-fil-A, BTO, Costa Vida, and Five Guys all contributed, and in addition to a percentage of sales, many also collected cash donations.
"I was kind of nervous about contacting the businesses at first," said Sierra. "I was worried that they wouldn't take me seriously since I'm just a high school student. But after a few businesses said they would help, us I gained some confidence and then it wasn't scary to ask for help anymore."
The fundraising activities culminated in a benefit concert the girls organized featuring local bands.
Along the way, other people and groups have heard about Abby's fight against the cancer and have lent their support. Popular band "We the Kings" will play a concert later this spring to benefit Abby and mega-star Justin Bieber sent good wishes via a YouTube video. The Make-a-Wish foundation got Abby a puppy in February, a pug named Peach.
In all, the girls fundraising efforts have raised roughly $5,000, which will be used to fund Abby's treatment. The project has taken many hours to coordinate, but the girls say it was worth every minute.
"I think we all made this a priority," said Sierra. "Something like this can really bring people together. All the work was worth it."
Editors Update: We are deeply saddened to report that as the paper was going to press, Abby passed away in the early hours of April 28. We send our condolences to her family and friends.
For information, visit the "ABC – Abby Beats Cancer" Facebook page: http://www.facebook.com/event.php?eid=100971003319719.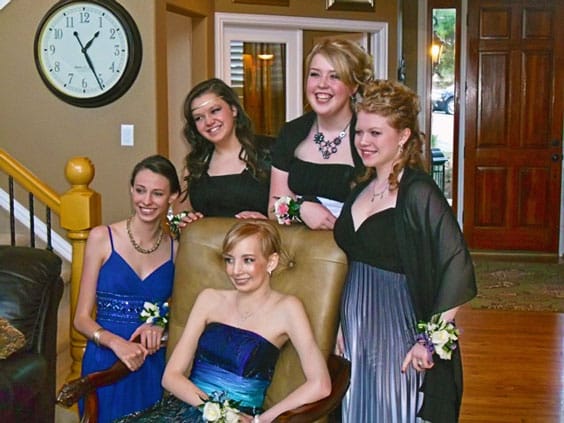 High school sophomore Abby Fast (seated) is fighting a rare cancer. Her friends at Rock Canyon High School coordinated a multi-faceted fundraising effort to show their support and help pay for Abby's medical costs. Here, the girls take a break from school and fundraising to attend the RCHS prom. The school district granted special dispensation for the sophomores to attend the prom, which is usually reserved for juniors and seniors only. From left to right: Quinn Kennedy, Sierra Merrill, Maddie Whitten and Brooke Boyles.