Homemade chili kept things warm for the Winter Festival in Castle Pines Village
April 1, 2013
/
/
Comments Off

on Homemade chili kept things warm for the Winter Festival in Castle Pines Village
Good food and neighbors made for a fun afternoon at the Winter Festival and Chili Cook-off in Castle Pines Village.
Article and photos by Amy Shanahan
Residents of Castle Pines Village (CPV) recently enjoyed an afternoon full of friends, food and fun! The Winter Festival took place on March 3 and was attended by more than 120 Village residents. The highlight was a chili cook-off in which residents could enter their own chili for tasting, and additional chili and other treats were catered by 5280. Five families prepared tasty chili for the contest and eight-year-old resident Zaira Crowley was the proud winner!
Adult residents enjoyed visiting with friends and neighbors, while the kids played bean-bags, horse-shoes and ran around the field at the Summit Club. Music was provided by Village residents TJ's DJs, and the attendees enjoyed a beautiful spring day in Colorado.
Victor Pluto, chairman of the CPV Parks and Recreation Committee that sponsored the event remarked, "It was great to be able to host an event during the winter. The turnout exceeded our expectations and the feedback from the residents was extremely positive. Our plan is to make the Winter Festival and Chili Cook-off a Village tradition."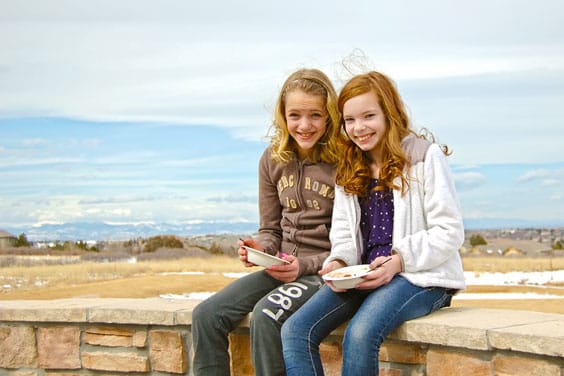 There is something for everyone in Castle Pines Village. Family-friendly events like the chili cook-off help bring families, neighbors, and friends together – like these two girls here chillin' with their chili.