How do you want to play in Castle Pines?
July 1, 2016
/
/
Comments Off

on How do you want to play in Castle Pines?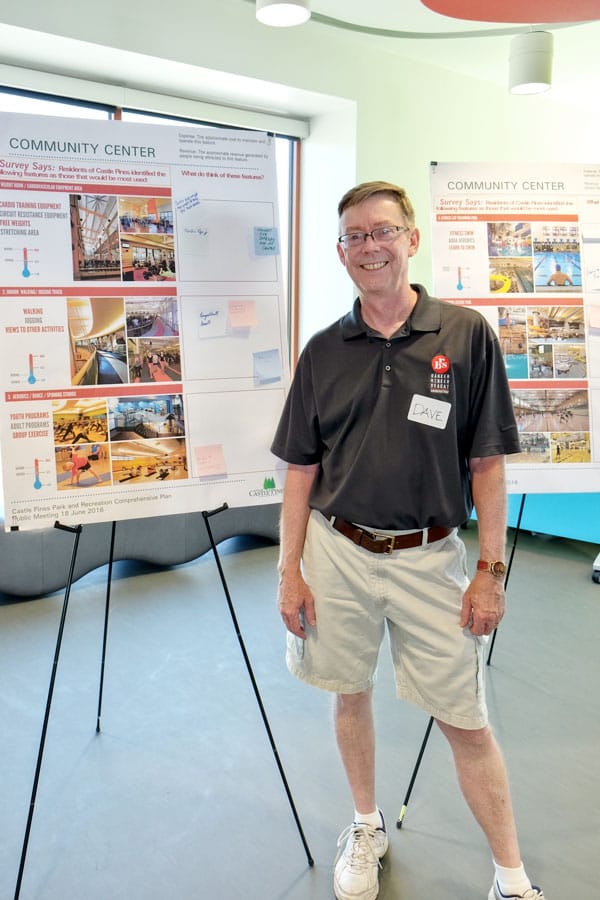 Dave Hammel with BRS Architecture, a subconsultant to Logan Simpson for this project, was available to answer questions regarding the feasibility of a recreation/community center in Castle Pines.
Article and photo by Lynne Marsala Basche
On June 18, Castle Pines Mayor Jeffrey Huff welcomed residents to the parks and recreation visioning kickoff event at the Castle Pines Library. Enthusiastic guests reviewed the City's recent recreation preferences survey results, provided additional information based on the findings, and enjoyed a barbecue.
"We were excited to see the interest in this planning process," stated Huff. "Residents have an opportunity right now to shape the future of recreation facilities in Castle Pines. By participating in the public workshop and open house, people can help city council make choices that best reflect the community's recreation priorities."
The Parks and Recreation Comprehensive Plan (PaRC Plan) includes several stages. The now-completed phases include a City-wide survey to all residents, stakeholder interviews and a public workshop – which was the visioning event. Armed with sticky notes and pens, residents had an opportunity to review and comment on survey results, as well as have discussions with City leaders and team members from Logan Simpson, the specialized environmental planning firm working on the PaRC Plan.
In the survey, the community was asked about their top priorities for future facilities. Sixty-four percent indicated they desired a recreation/community center.
"We know our residents value recreation," said Huff, who also noted that residents are vocal about what they want. The survey resulted in 12 recreational facility features being identified as those that would be most used by residents. As part of the visioning event, guests were asked what they thought of those features.
The features included a weight room/cardiovascular equipment area, an indoor walking/jogging track, aerobics/dance/spinning studios, a fitness lap swimming pool, an indoor leisure pool, a gymnasium, indoor turf (fields), a wellness/therapy pool, child watching/babysitting services, a senior adult lounge and a rock climbing wall.
The PaRC Plan will allow City leaders to gather input on the community's vision; address the need for recreational facilities, programs, trails and open spaces; define goals, objectives and policies to guide future decisions; and develop a plan for potential future projects, including timelines, potential costs and responsibilities.
Huff was quick to note that the City can do just about anything, but funding will be a big discussion. The recent survey indicated that 61 percent of residents said they would support an increase of $200 to $250 in property taxes to fund the construction of an indoor recreation facility. Fifty-five percent indicated they would support an increase in sales taxes to four percent to assist in covering the operating costs of the community/recreation center. Huff discussed that it may be more realistic to do a combination of the two options, given that the City does not receive as much revenue in sales tax as residents may think.
Visit www.castlepinesgov.com/parks-rec-plan for the most up-to-date information, including survey results and upcoming public workshops.